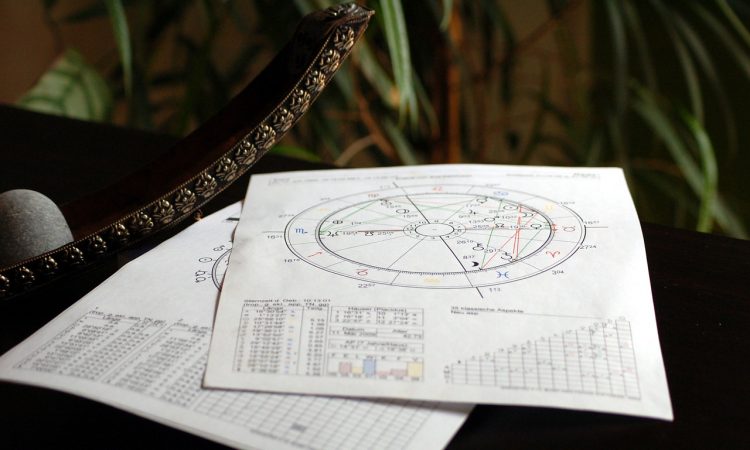 Horoscope August 2020
What are the stars foreseeing? 
What are the New Predictions and how they will affect your life?
Your monthly Horoscope has always something new to reveal!
Aries
Can you feel the pull to be a little bit different during the Aquarius full moon on August 3? This eccentric energy urges you to pursue the unknown and not be afraid to be perceived as outside the norm. Yes, this attitude can cause others to stare and point, but when have you cared about what anyone else thinks?!
Messenger Mercury enters outgoing Leo on the fourth, and you're comfortable surrounded by this intense, fiery energy. You talk a little louder and you're slightly more animated than usual, but that's only because you're so intent on getting your point across. Your aggression takes a back seat to friendliness.
Your ruler Mars is at home in your sign as it squares expansive Jupiter in earthy Capricorn, also on August 4, bringing luck and courage that you'll need to fight some unexpected battles. Everyone might think things come easily to you, but underneath it all you're a warrior going hard for what you want.
The sun leaves fiery Leo for less-passionate Virgo on the twenty-second, and while you might miss some of the intensity, you'll gain a valuable earthiness that you can apply to your everyday life. There is a lot to be said for calming down and getting into a set routine, Aries. Take care of some responsibilities now that you've been avoiding.
Taurus
The sun is in outgoing Leo as it squares quirky Uranus in your sturdy sign on August 2. The unexpected nature of this transit causes you a lot of stress, because logic won't apply to a lot of situations you find yourself in now. Try not to make any sudden moves. Accidents can happen when you don't plan ahead.
There's an Aquarius full moon on the third to add to the strangeness, and your need to express yourself will be high. Although you usually like to take a conservative, more traditional approach to life, this eccentric influence encourages you to think outside the box. The next few days should be interesting, to say the least.
Your ruler Venus enters caring, nurturing Cancer on August 7, so your attention shifts to home life and how you can make things more comfortable and homier. You might experience more mood swings now than usual, but it's only because you're so concerned about everyone else's feelings.
Eccentric Uranus goes retrograde in your sign on the fifteenth, triggering a five-month journey into self-discovery and reflection. Why have you reacted to certain life changes the way you have in this past year, and how can you work on changing your reactions in the future? Life isn't always predictable, but your reaction to it can be.
Gemini
There's a full moon in humanitarian Aquarius on August 3 that makes you want to do good things in the world. You're best when teamed up with others to fight for a good cause, but if that's not possible you can do plenty on your own. Try to wrap up loose ends before starting something new.
Your home planet Mercury pairs up with charming Leo on the fourth, so finding the words to make your move shouldn't be a problem. You have a creative, charismatic approach to life (and love) that makes other people jealous. This is a good time to share your secrets of success with the people who want to know.
Innovative Uranus goes retrograde while in steady Taurus on August 15, giving you some time (the next five months, to be exact) to figure some things out. If you've gotten unexpected news lately or had a surprising life event happen, you might be feeling powerless against these sudden changes. Use this time to figure out how you can feel more in control going forward.
Your ruler Mercury moves from outgoing Leo into responsible Virgo, the other sign it rules, on the nineteenth. Communicating with friends and co-workers becomes practical and focused now, but be sure you're not coming across as short or uncaring. You take communication issues seriously, but that doesn't mean there isn't any room for humor.
Cancer
Loving Venus enters your calm sign on August 7, and all is at peace in your love and money sectors. You might have outstanding issues in both of these areas, but there isn't an urgency to deal with them. You believe that good things will come if you're patient, and this optimistic attitude becomes a self-fulfilling prophecy.
Times might become a little more turbulent when change-loving Uranus goes retrograde in traditional Taurus on the fifteenth, so watch out for some of your beliefs to be challenged. You experience the most growth when you're open to new ideas and opinions, but when things change suddenly, they take you off guard. Use the next five months to figure out a better way to react to challenging situations.
A new moon in spotlight-loving Leo on August 18 has you figuring out new ways to get attention, but you shouldn't have to look much further than your creative abilities. When other people are showcasing their talents, you're right at home displaying your painting, singing, or other artistic skills.
The sun moves from outgoing Leo to more introverted Virgo on the twenty-second, welcoming in a month of organization and order. Have you let things get out of control? Is your closet overflowing, or has it been days (or weeks) since you returned texts or e-mails? Make a list of what you need to get done and start tackling the most important chores first.
Leo
Communicative Mercury leaves shy Cancer and enters your dramatic sign on August 4, so here come the embellishments and exaggerations! You don't exactly lie, but you love to emphasize the most dramatic parts of every story now. You give some pretty impressive compliments now as well, even if they are slightly exaggerated.
Loving Venus pairs up with caring Cancer on the seventh, giving you time to focus on your private/family life. Nothing is as important as the people closest to you now, and you work overtime to make sure they're well taken care of. Your favorite activities are playing games at home with the kids or making a comforting meal for your partner.
August 15 marks the date that experimental Uranus goes retrograde in traditional Taurus, and for the next five months you will have plenty of time to figure out what has held you back this year and how to keep that from happening in the future. Do you place too many restrictions on yourself, or do others do it for you?
There's a new moon in your dramatic sign on the eighteenth that should give you an optimistic outlook about what's to come in the near future. If you've put in the work, you should see some rewards and recognition coming you way. There's nothing you like better than receiving a pat on the back (or a standing ovation) for your efforts.
Virgo
There's less social energy around you as romantic Venus moves from communicative Gemini to introverted Cancer on August 7. Your focus is more one-on-one now, and you seek to strengthen your family unit or bond with a close friend or lover. You know which relationships are most important, and you're ready to do what it takes to keep them thriving.
Rebellious Uranus takes a time-out during its retrograde period in steady Taurus starting on the fifteenth, giving you a good chance to look at your own actions in the past several months and figure out how they're tied to your success or failure. Is it time to step up and take more responsibility, or are you doing okay in this area?
Your home planet Mercury leaves life-of-the-party Leo and enters your practical sign on August 19, making your communications less lively and more focused. The people you're in touch with most often might see you as being a lot more subdued, but you prefer to think of yourself as more focused.
The sun also leaves outgoing Leo for your sign on the twenty-second, and you can't wait to get back to business. You probably had a lot of fun these past weeks, but you can't (and don't want to) avoid your responsibilities forever. Is it weird that you can't wait to get back to your regular cleaning, straightening, and organizing schedule?!
Libra
With the full moon bright in Aquarius on August 3, you'll be feeling rebellious and maybe a little bit strange. You might find yourself on a team with other power players, but you'll still want to express your individuality. There's a way to combine forces to make the world a better place, but it might just take a while to figure out the complicated dynamics.
Money-centric Venus enters domestic Cancer on the seventh, so a lot of your money might go into making home improvements. You'll want the very best furnishings money can buy, like an expensive leather couch or the highest thread-count sheets. Nothing is too good for your family, especially when it comes to making them feel comfy, cozy, and well cared for.
There's a new moon in enthusiastic Leo on August 18 that is the perfect time to get started on a creative project. When you express your artistic skills now, you're all but guaranteeing that your talents will be in the spotlight—and stay there for some time. People are impressed by your willingness to put yourself out there!
You'll feel your responsibilities calling when the sun leaves entertaining Leo and enters capable Virgo on the twenty-second, but you knew the fun couldn't last forever. This is a great time to get organized around the house or office or offer your services to someone who needs help. You love to feel needed now.
Scorpio
Communication becomes more open and outgoing as Mercury leaves shy Cancer for gregarious Leo on August 4. You're more likely to express yourself loudly and proudly now, and you don't care as much what other people think. This is the perfect time to make that grand gesture you've been too shy to make until now.
Money-centered Venus enters domestic Cancer on the seventh, so you'll want to spend the majority of your disposable income on items for your home. These could range from big-ticket items like furniture to smaller ones like candles and soft blankets. You want to make your house feel like a home, and you don't mind spending a little money to make it inviting and comfortable.
Mars and Pluto, your two co-rulers, form a square on August 13, causing tensions to run high. Power struggles that start now won't end without someone giving in, and it's probably not going to be you. You're one of the most stubborn signs, Scorpio, and at times like this it seems like you're actually proud of that title.
There's a Venus-Pluto opposition on the thirtieth that ends the month on an intense note, especially if you're dealing with an unexpected crisis. You feel flustered when you don't have time to think, which results in frustration and could lead you to make poor decisions. Don't feel pressured into making any quick choices about love or money.
Sagittarius
The pairing of Venus with Cancer on August 7 is a satisfying one, although it might be a bit on the tame side for you. When Venus was in Gemini you felt excitement and anticipation, and now you might be missing all of that. The good news is that Venus in Cancer is a very understanding, compassionate, and nurturing energy, and when you pay attention to these, you won't miss those thrilling moments quite as much.
The sun leaves outgoing fire sign Leo and enters steady earth sign Virgo on the twenty-second, putting you in the mood to get your things in order. You normally don't like to spend a lot of free time on non-adventures, but when you see a dirty dish, you want to wash it! Tending to some of the more mundane chores like laundry and vacuuming makes you feel productive.
Venus in Cancer opposes your home planet Jupiter in Capricorn on August 25, calling into question your ability to be optimistic regarding love and/or money. You deserve to be happy, so why have these negative things been happening to you? You can blame it on fate, but it also might have something to do with your lack of commitment or discipline.
Capricorn
When Mercury, the planet that rules communication, enters confident and outgoing Leo on August 4, your conversations become bold and dynamic. You love to embellish the stories you tell, and you might even throw in an extra fictional detail or two to see people's reactions.
The thirteenth brings a powerful square between Mars and Pluto that is challenging at best. Passive-aggressive behavior is quite common now, and you've been known to get in more than a few sarcastic barbs here and there. There might not be anything you can do to control other people's behavior, but you can control how you react to it.
Inventive Uranus goes retrograde in the Bull's stubborn sign on August 15, urging you to look at the past several months and examine which plans you made fell through or which projects you attempted failed. It's great that you've made efforts to succeed, but are the potential disappointments worth investing yourself in 100 percent? By the time this five-month retrograde period is over, you might find it's time to dial things back just a bit.
The sun leaves exciting Leo for more predictable Virgo on the twenty-second, putting you more at ease as you revisit some of the goals you have. This focused, practical energy encourages you to forge ahead with the ambition you're known for. Very few things can stop you now.
Aquarius
The full moon in your eccentric sign on August 3 taps into your experimental side. If you still have things you'd like to accomplish from last month, this is the time to think outside the box to tie up those loose ends. Your pioneering spirit helps you come up with ideas that other people would never be able to even dream of.
Loving Venus enters caring Cancer on the seventh, making your love life soft and romantic. Whatever you've got going on, count on it getting a lot more comfortable and nurturing. You love your freedom, but you actually don't mind being cared for and pampered a bit now.
Your ruler Uranus goes retrograde while in traditional Taurus on August 15, causing your innate sense of rebellion to calm a bit as you explore your alternatives. Is it possible you could have accomplished more by following the rules, or could you still get things done by being more (gasp) "normal"? Nothing has to be decided for sure now, Aquarius, but it's something to think about.
Talkative Mercury enters buttoned-up Virgo on the nineteenth, so the rest of the month's communications will be precise, accurate, and detailed. If you say you're going to text someone, you do it, and you expect the same in return. Your motto now is "if you're not early, you're late," which will please people in positions of authority.
Pisces
You're a little less shy and more likely to speak your mind when Mercury enters outgoing Leo on August 4. While you're normally perfectly happy working backstage, you actually don't mind being in the spotlight now. Show off some of your creative talents that no one has seen before!
Love goddess Venus leaves restless Gemini for security-seeking Cancer on the seventh, so you'll be looking for long-term relationships (both romantic and platonic) instead of short-lived interaction. You're very good at creating a homelike atmosphere now, especially when it comes to your cooking and decorating skills.
You can look forward to an invigorating Leo new moon on August 18 that will have you looking for love and attention anywhere you can get it. You're not desperate, but being adored sounds kind of great. Pay close attention to the comments on your social media posts. It's possible someone will say something you weren't expecting that makes you feel really good about yourself.
An emergency or crisis is imminent during the Venus-Pluto opposition on August 30, and it might be a challenge to remain calm. Whether you caused it or had no part in it, the effects are still the same. You'll have to find a way to deal with it instead of sticking your head in the sand. This probably isn't going to go away on its own, Pisces.
Source: Astrology.com
Tags :
blame it on the stars
horoscope
monthly horoscope
stars predictions
zodiac signs