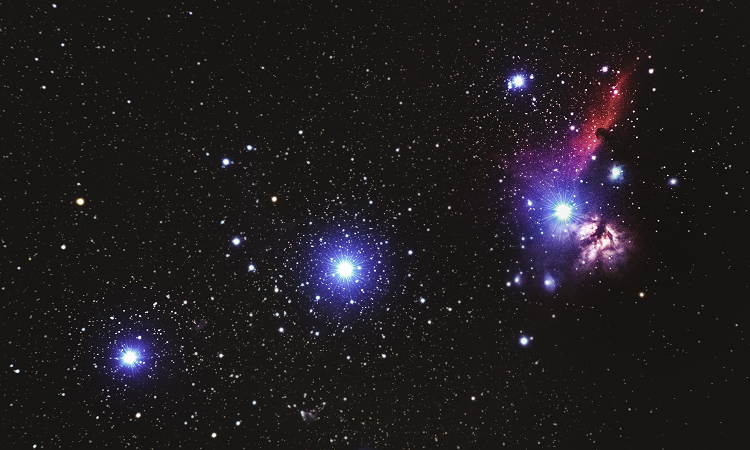 Horoscope September 2020
What are the stars foreseeing?
What are the New Predictions and how they will affect your life?
Your monthly Horoscope has always something new to reveal!
Aries
The full moon in creative Pisces on September 1 brings a potentially illuminating day filled with intuitive insight. If you've been searching for an answer to a difficult life problem, you get guidance from this positive lunar force.
You turn on the charm as Mercury enters graceful Libra on the fifth, and your quick temper is largely replaced by a sense of diplomacy and the desire to reach a mutually beneficial compromise. This is a perfect time to negotiate a business deal or navigate the difficult waters of a friendship or romantic relationship that's been on the rocks lately.
Your intense home planet Mars goes retrograde in your strong sign on September 9, lowering your energy level and making you doubt yourself more than usual. Because you might struggle in leadership roles for the next couple months, this isn't the best time to volunteer your services or take the initiative. Thankfully, this energy-lowering transit only happens once every two years.
Communicative Mercury enters secretive Scorpio on the twenty-seventh, at which point you won't want to share any intimate details. If your friends are used to you being open and honest with them about your personal life, they might wonder what's up. You don't have to explain yourself, Aries. Your sudden mysteriousness is intriguing.
Taurus
There's a full moon in emotional water sign Pisces on September 1 that puts you in touch with your sensitive side. Your intuition is at its full capacity, so pay attention to your dreams and other signs from your subconscious. Those little feelings you're getting are leading you toward the direction you should be taking.
Loving Venus, your home planet, enters dramatic Leo on the sixth, so your love and money sectors are thriving now. Don't be afraid to be bold and out-there. Your confident choices with your investments or a potential love interest net you some very exciting results!
Venus squares quirky Uranus in your sturdy sign on September 15, bringing some unexpected news or events into your life. As a fixed sign, you'll likely resist any changes that come your way, but embracing them can lead to some very interesting (and positive) experiences. Even if it's not your instinct to say yes without thinking it over, why not do it just this once?
Hardworking Saturn goes direct in Capricorn on the twenty-eighth, renewing your strength and reminding you what a blessing your ability to be patient is. Your goals might not happen on your exact timeline, but you have faith (and evidence) that they'll materialize eventually.
Gemini
A trine between your home planet Mercury in Virgo, the other sign it rules, and Pluto in earthy Capricorn on September 1 plants your feet squarely on the ground. Getting to the point is your main priority, and you have much greater attention to detail than usual. Resist the urge to criticize someone just because they aren't communicating in your preferred way.
Things loosen up more when Mercury enters airy Libra on the fifth, when tension gives way to compromise. You're much more open to other people's ideas and suggestions, and you're willing to give up a little of what you want to make someone else happy.
The new moon in earthy Virgo on September 17 puts your health in the spotlight and urges you to address any problems or issues you've been having with your body. Is it something that a better diet and more exercise can cure, or do you need to make an appointment to see a health professional? Being diligent is imperative now.
The sun enters fair-minded Libra on the twenty-second, which is the same day as the fall equinox. As you experience a perfect balance between lightness and darkness today, enjoy the sights and sounds of a brand-new season. Gracious Libra reminds you to be grateful for the bounty you've already received as you look forward with optimism toward great things yet to come.
Cancer
Your sensitivity reaches new heights during the psychic Pisces full moon on September 1. Whether you're committed to doing something small for a loved one or something on a larger scale for the world, your loving attitude during this lunation helps make the world a better place.
Venus is in your sensitive sign during her square-off with powerful Mars in Aries on the fourth, creating a lot of tension in your closest personal relationships. Finances might also get caught up in the crossfire of this aggressive cosmic battle, leaving your bank account or credit in disarray. When all is said and done, you might need to call in professional help to resolve things.
Powerful Mars goes retrograde on September 9, adding to the stress you might already be feeling between you and a loved one or co-worker. This isn't a compromising energy, Cancer, so wait until the aggression dies down before you suggest a truce.
Mercury enters investigative Scorpio on the twenty-seventh, which should help you do research on a topic you've been interested in lately. This transit helps you find out what you need to know while remaining, in large part, anonymous, so if you've been wanting to stalk someone's social media pages, this is a good time to do it without getting noticed.
Leo
When the Virgo sun trines Uranus in Taurus on September 2, the practical earth sign vibes are undeniable. Solving problems now is a matter of logic, and using your common sense is underrated. Cutting through red tape is as easy as looking closely at the details.
Communicative Mercury blossoms under Libra's graceful guidance starting on the fifth, when you should start noticing yourself and others using beautiful language to describe the ordinary. Poetry and lyrics have more meaning now, so listen closely to your favorite verse or song to pick up on something you never noticed before.
When love and money goddess Venus enters your confident sign on September 6, her goal is to help you improve in these areas using your natural charm and finesse. You get more wealth or love now by going after it in dramatic fashion, Leo. When you leave the room, there isn't anyone who won't know you were there. Making a lasting impression is what this transit is all about.
Ambitious Saturn comes out of its retrograde cycle on the twenty-eighth, while it's still accompanied by Capricorn, the sign it rules. This is a direct signal to get back to work, especially if you've let things slide lately. In other words, playtime is over. It's time to get serious about future goals and what you're going to do to reach them.
Virgo
Your ruler Mercury is in your sign to start the month but quickly moves into beauty-loving Libra on September 5. You still value practicality and common sense, but things like manners and appearances are important to you now as well. You expect others to be on time and to say thank you and excuse me whenever it's appropriate.
There's a new moon in your critical sign on the seventeenth, so there's very little you won't notice. Do you have to comment about every little thing you see that's wrong? No, not necessarily, but how will improvements be made if you don't offer constructive criticism? Your hope for the future is based on people listening to your opinions and ideas about how to make things better.
The sun enters Libra as the fall equinox brings an equal balance of daylight and nighttime hours on September 22, which is very fitting given Libra's quest for equilibrium. As a new season begins, this is your chance to start fresh in many areas of your life. As a goal, work on the delicate balance between work and home life.
You get quieter and more contemplative as Mercury pairs up with secretive Scorpio on the twenty-seventh, but resist the urge to overthink things. Jealousy and suspicion can run rampant now if you don't let the other person tell their side of the story.
Libra
Can the sensitivity from the Pisces full moon on September 1 bring up some things you'd rather not think about? Possibly, Libra, but pushing emotions to the side isn't a good idea now. You're extremely in tune with others on a psychic level, which should allow you to work through problems with minimal angst.
A Venus-Mars square on the fourth hosts power struggles into the spotlight and makes you wonder if you'll ever be able to get along with a certain someone. What do you do when you have opposing opinions but both of you are absolutely sure you're right? Sometimes you just have to agree to disagree, but this is a tough aspect to try to negotiate in.
Mercury is in your gentle sign as it squares Pluto in sarcastic Capricorn on September 20, so some of your verbal battles could get pretty nasty despite your attempts to be nice. You definitely prefer to reach an amiable compromise, but you're not a pushover.
All is much better in your world as the sun moves into your balanced sign at the same time we experience the fall equinox on the twenty-second. This new energy gives you a clean slate on which to write your future dreams. People envy your grace and charm as you embrace your optimistic future.
Scorpio
There's a full moon in fellow water sign Pisces on September 1 that lets you know your month is off to a good start. Your intuition is heightened, and your dreams are vivid and meaningful. Use your creativity to paint someone a picture, either literally or figuratively.
Your co-ruler Mars goes retrograde while in aggressive Aries, the other sign it rules, on the ninth, taking away some of your confidence. Just because you lost a bit of your competitive edge doesn't mean you're out of the game, but you'll have to work a little harder to let people know you're still a contender.
Mercury is in fair-minded Libra as it squares your co-ruler Pluto in hardworking Capricorn on September 20, giving you a warning to watch what you say, how you say it, and who you say it to. Your goal should be to avoid confrontation, but if someone wants to get in your face over and over, you're not going to keep backing down.
When Mercury enters your mysterious sign on the twenty-seventh, good luck to anyone who tries to get to know you better. You have a natural wall up that's preventing people from getting in, and you also have some major trust issues. It's not impossible, but it will take someone pretty special to get you to open up.
Sagittarius
As talkative Mercury leaves critical Virgo and meets up with balanced Libra on September 5, you'd rather reach an amicable agreement than argue. This classy energy put you in a great position to play ref between two fighting friends or act as a liaison between two combatant co-workers. Your sense of fairness is nondiscriminatory.
The new moon in practical Virgo on the seventeenth helps you set reasonable goals for the future, but you might suffer if you set your expectations too high. This can be an extremely critical lunation, Sagittarius, so try to start small and work up to bigger things so you don't end up disappointing yourself.
The sun enters optimistic Libra at the same time as the fall equinox on September 22, giving you a clean slate and a much more positive outlook. As you feel the season change around you, it breathes new life into your surroundings. Despite whatever else is going on with you, don't lose sight of how lucky you are.
Strict Saturn leaves its retrograde cycle to turn direct in ambitious Capricorn on the twenty-eighth, putting some rules into place and reminding you to have patience when it comes to your future goals. It would be nice if everything just effortlessly fell into place, but that's just not how life works.
Capricorn
You don't lose your composure very often, but when passionate Venus teams up with exciting, spontaneous Leo on September 6, you come close! This transit encourages you to loosen up some of the rules you've set for yourself and live in the moment instead. Lose yourself in the excitement of love!
The new moon in strict Virgo on the seventeenth encourages you to tie up loose ends that might have gotten overlooked at the beginning of the month and pay attention to the details of any projects you're working on. The future looks bright as long as you're focused on what really matters.
A Mercury-Pluto (in your sign) square on September 20 imposes its own set of restrictions on communications, especially personal interactions. Your tendency to overthink what's really going on can interfere with a close relationship that has always been built on trust. Avoid going to extremes without getting input from all relevant sources, Capricorn.
Your home planet Saturn goes direct while in your hardworking sign on the twenty-eighth, which is a major signal for you to get back on track. Your future goals are crystal clear, and you have the strength and patience to see them through to fruition. A raise, promotion, or similar advancement is likely in the near future.
Aquarius
As technology-driven Mercury teams up with mild-mannered Libra on September 5, you make an excellent online facilitator, counselor, or customer service representative. Fairness is your number one priority now, and you're committed to making sure that all parties are satisfied.
A Venus-Uranus square on the fifteenth puts you in an awkward position when you're the last to know some surprising or unexpected news about a financial situation or perhaps a current or past lover. Was someone afraid to tell you the truth, or was it an oversight? Finding out the facts is the first step in being able to process what's happening.
Mercury enters mysterious Scorpio on September 27, at which point you'll think playing hard to get or similar mind games is sexy or cute. And depending on who you play them with, they could be. You should have the ability to judge the reactions you're getting and go from there.
Hardworking Saturn goes direct in goal-oriented Capricorn on the twenty-eighth, and this positive change of direction is just what you need to get going on an important project. You're more than happy to follow the rules; in fact, you thrive under strict supervision now. You can do it yourself, but it's important to you that you prove your worth to people higher up on the ladder of success. After all, they're already where you aspire to be.
Pisces
The full moon in your compassionate sign on September 1 is a sign for you to be more empathetic and caring toward your fellow humans. If pets are on your mind, consider volunteering at a shelter or giving your time or money to an animal welfare organization whose views align with yours. No matter how you help, your efforts matter.
Loving Venus enters outgoing Leo on the sixth, giving you a bigger voice and allowing you to take the initiative regarding love and money. Big moves aren't usually your style, but right now you feel confident and empowered. Go for it, Pisces!
When driven Mars goes retrograde in equally powerful Aries on the ninth, it has the opposite effect. A dip in your energy could have you questioning whether or not you can finish a project you just started, and a lack of motivation hurts your confidence. You'll pull out of this slump, but it might be a while.
Success-driven Saturn goes direct in hardworking Capricorn on the twenty-eighth, pulling you out of your tailspin and setting you back on track in both personal and business pursuits. Your goals are crisp and precise, leaving you little wiggle room, which is just what you need to reach the success you're looking for.
Source: Astrology.com
Tags :
blame it on the stars
horoscope
monthly horoscope
stars predictions
zodiac signs