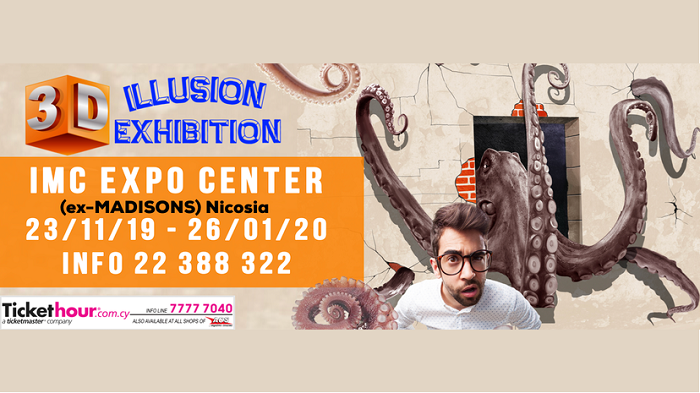 Get ready to be "deceived" in the most entertaining way!
The world-renowned 3D Illusion Exhibition opened its doors on November 23rd at the IMC EXPO CENTER (former Madisons) in Nicosia and will remain open for the public until January 26th.
Experience the vibrant three-dimensional shaped world and become the leading star in these illusory stories. This unique exhibition consists of professional, three-dimensional art boards, digital images, illusion backdrops and specially designed 3D rooms.
It is a fully interactive experience comprised of 31 exhibits with artistic, educational and entertaining influences that soothe our senses.
Visitors of the exhibition become part of the whole scenery while posing on camera. Each exhibit is a different experience, giving visitors the chance to interact with them and become the central hero or story director they choose with their imagination.
Among other things, visitors can fight dinosaurs, walk the moon, become giants, play with Mona Lisa painting and transform into ninja fighters. The 3D Illusion Exhibition is an authentic Instagram paradise as photos from this experience make the magical world even more real!
Working Hours:
Saturday
10.00 – 20.00
Weekdays
15.00 – 21.00
The exhibition is also open ALL MORNING for reservations involving visits from organized groups (public and private schools, colleges, scout bodies, etc.) private and corporate parties (birthdays and other private events) after booking.
ENTRY (PER PERSON)
• Children up to 6 years: FREE
• Children 6 – 12 years old: € 5
• Students on school trips: € 5
• Students (excluding school trips): € 7
• Adults: € 9