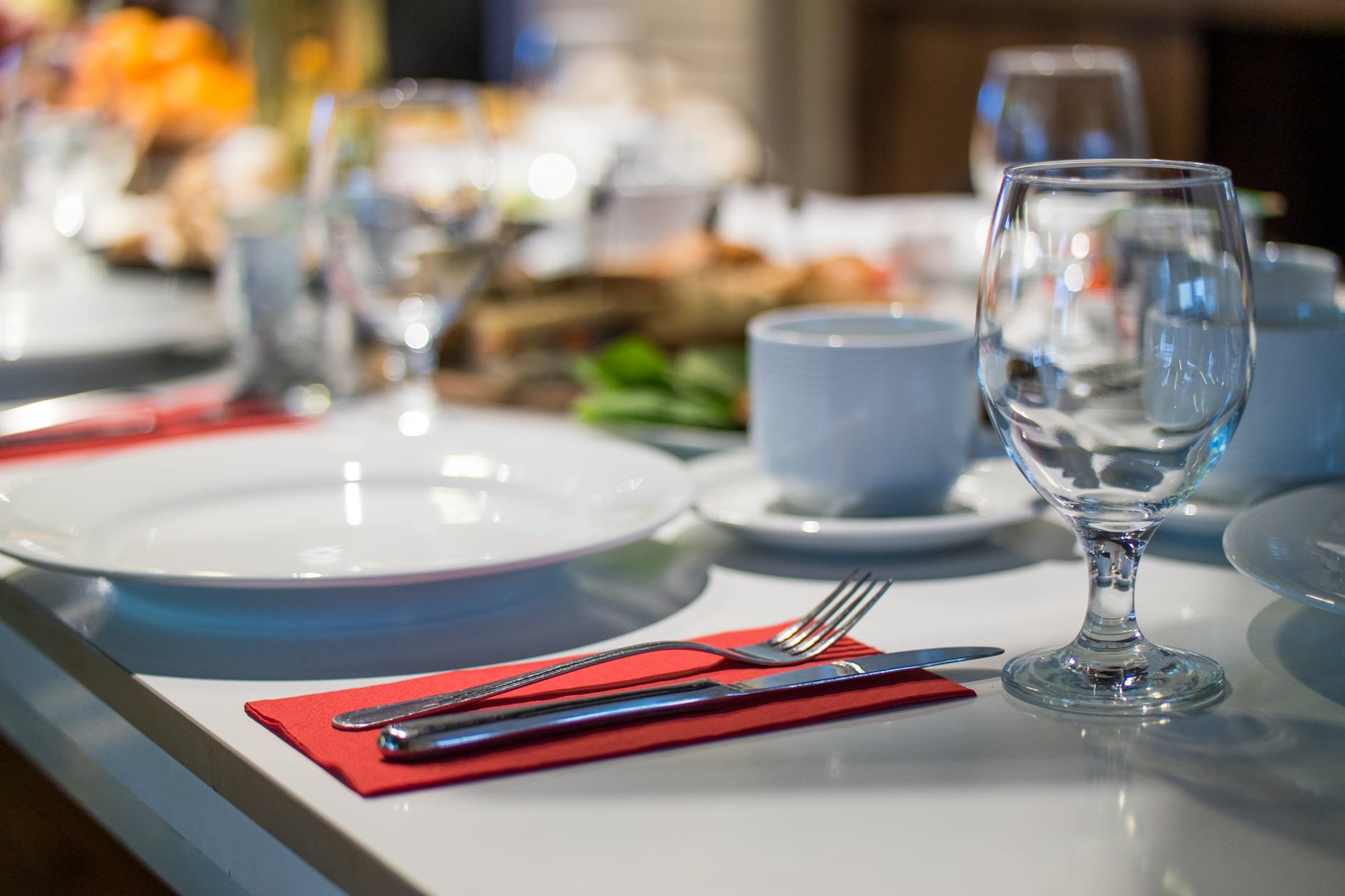 The feeling of Limassol dining, maybe the most beautiful city of Cyprus with its beautiful beaches, resembles that of holidays. See below our list of excellent dining options in the cosmopolitan city of Limassol that will satisfy even the most demanding tastes.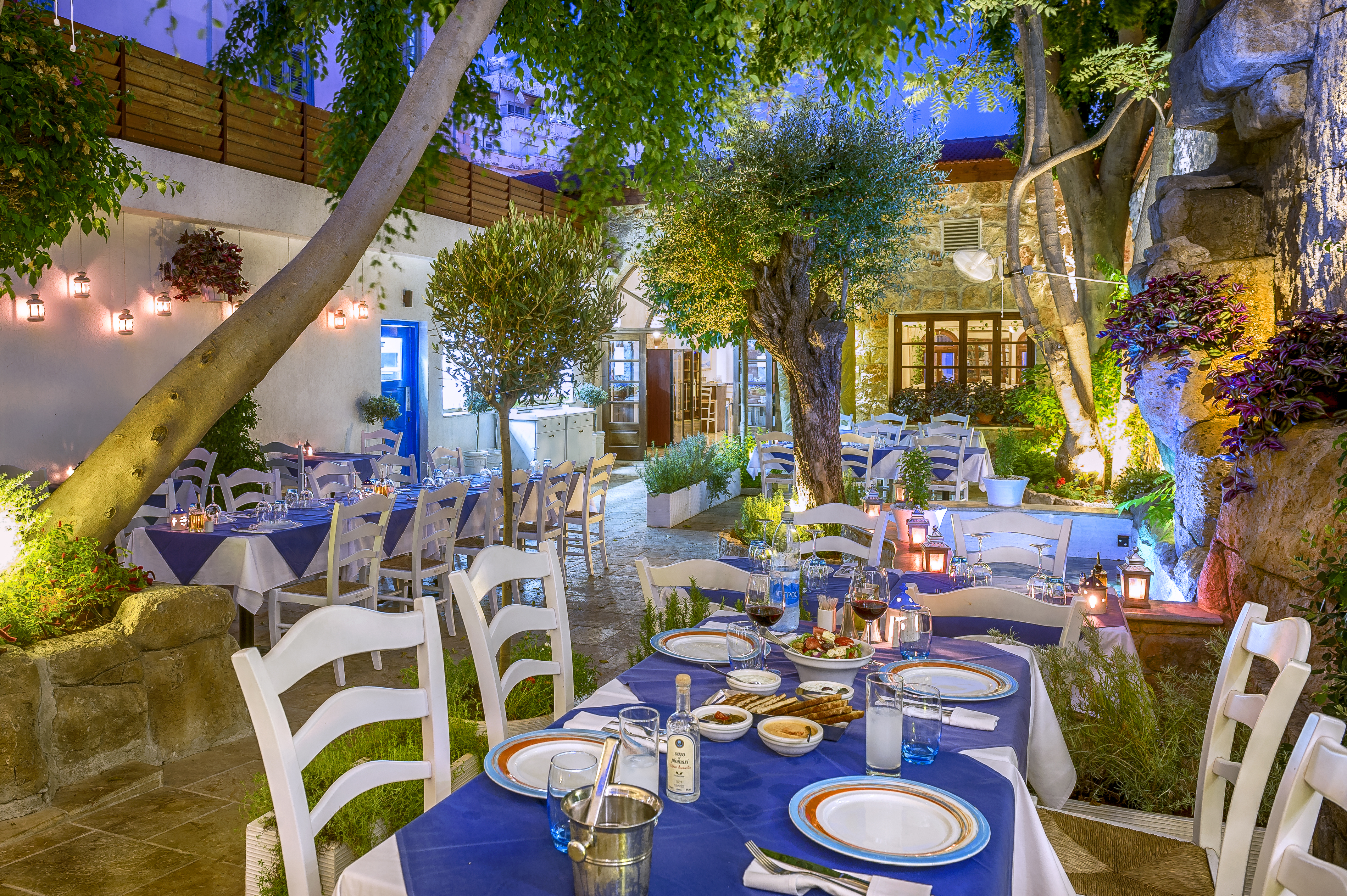 In a historic area at the heart of the beautiful Limassol, at the scenic street of ​​Agiou Andreou there is a great restaurant with Mediterranean flavors and authentic Greek cuisine.
Avli tou Vasilea is a great restaurant with the inside courtyard (Avli) element, as its name suggests to be distinguished, since the main restaurant area is a large beautiful courtyard where visitors can enjoy their dinner as real kings.
At Avli tou Vasilea visitors can enjoy a hosted and warm environment dominated by blue and white colors reflecting to images from Greek islands.
Avli tou Vasilea restaurant offers exquisitely delicious and tasty dining options and has impeccable service, elements that are key pillars to the values of the well-known Columbia restaurants chain, member of which is also the Avli tou Vasilea.
The place is full of melodies from excellent Greek live music that creates ideal conditions for the visitors, to enjoy their dinner.
Beside traditional Greek Ouzo, the restaurant has also a wide variety of wines that can accompany your dinner through selection from a rich wine list.
Tel: (+357) 25278000 | Find Avli tou Vasilea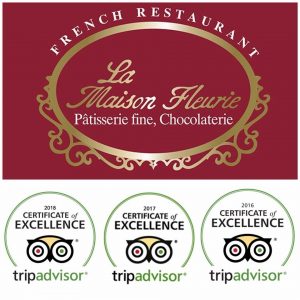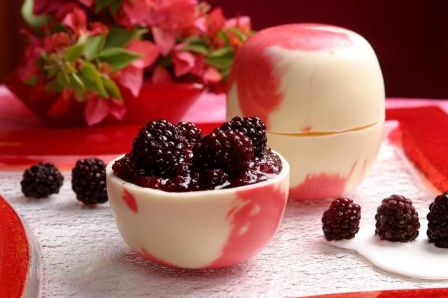 La Maison Fleurie is an excellent restaurant in Limassol that has been established in 1986. La Maison Fleurie created based on the great passion for quality French authentic cuisine. The restaurant's interior design has a rich classic style combined with very romantic surroundings that create a great atmosphere.
The restaurant has a majestic garden that offers a great experience of relaxing evenings especially during summer period. The place is also an Ideal destination for weddings, private parties, baptizing and other private events & anniversaries! The restaurant is awarded in 2018, 2017 & 2016 with a Certificate of Excellence for the great reviews earned by guests. In 2014 La Maison Fleurie has been awarded by Tripadvisor with the Travelers Choice Award and has been included in the Top 25 Fine restaurants.
It has been also distinguished in many gastronomy exhibitions worldwide and in the most well known Travel Guides as Conde Nast Traveler, DK Travel.
La Maison Fleurie is honored by the DK Travel Guide of "Top 10 Cyprus" since 2004 and every year is honored as the 1st Top international Restaurant and probably the best restaurant in Cyprus.
Every Tuesday & Friday, the restaurant delivers directly from France, Fresh Tsarskaya Oysters (Gold medal 2017 in Paris) & Seafood. Great Specialties on Duck, Goose Foie Gras, Wild Boar, hare, Quail, Grouse and Deer!
Tel: (+357) 25320680|Find La Maison Fleurie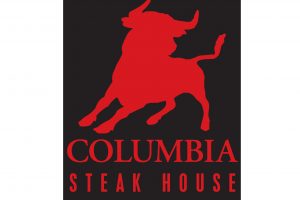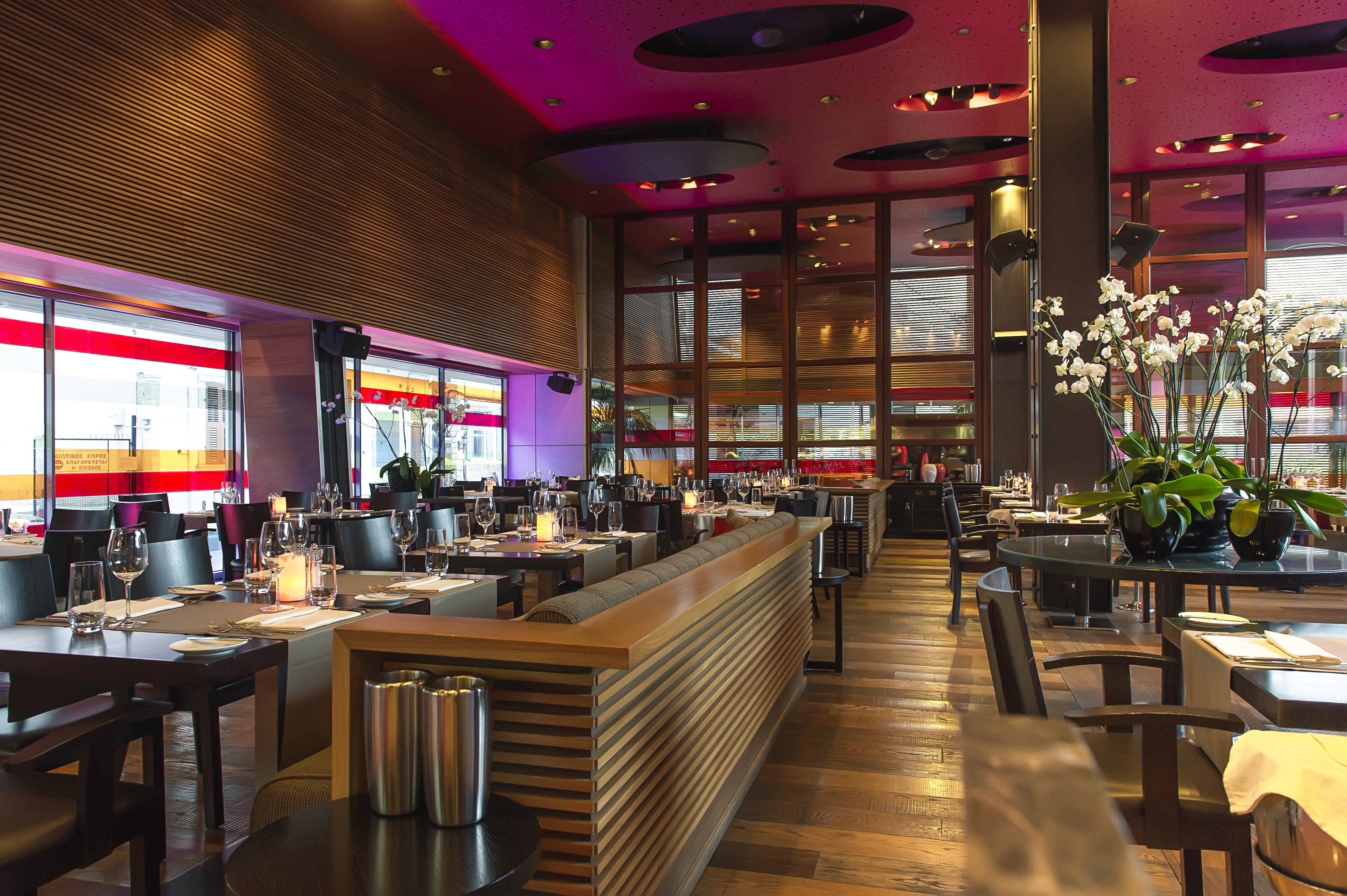 The Plaza's Columbia Steak House is a great quality destination especially for steak lovers. Columbia Steak House has specialization in fresh, prime cuts of top quality U.S.D.A Black Angus premium beef, that is imported from overseas on a weekly basis.
The experienced chefs of the steak house cooking the perfectly aged steaks by using a unique method.The result represents possibly the best steak in Limassol and satisfies even the most demanding gourmands. Under the strict supervision and mentoring of its experienced chef the staff of the Steak House by focusing to even the smallest detail, proudly serves top quality of food to its visitors.
If you are not a steak lover you don't have to worry since the Steak House includes in its rich menu fresh fish and seafood, sushi creations and other unique sides and decadent desserts. The steak house is a stylish and excellent destination ideal also for an after dinner drink at a relaxing environment.
The Steak House has an impressive wine cellar with many choices. Columbia Steak House with a spacious indoor and outdoor seating offers a great gastronomic experience that will satisfy its visitors to the maximum.
Tel: (+357) 25278000 |Find Columbia Steak House

The impressive Columbia Beach is a place on the beach next to the Limassol Nautical Club, which aims to provide high quality services throughout the day.
Columbia beach is a fantastic place, which aspires to be a destination for 365 days a year, as the restaurant will welcome guests with quality food and a fireplace overlooking the seafront of Limassol.
Columbia beach is under the umbrella of the Columbia Restaurants group, which has popular brands in the Cypriot market and is a synonym of excellence and quality.
At Columbia Beach Guests can, among other things, relax in their comfortable beds from early in the morning until late in the evening, tasting quality snacks, coffees, wines and signature cocktails under the sounds of Dj's music.
Columbia beach Restaurant has a rich menu that covers all tastes, cold and hot appetizers, cool salads, homemade soups, meat, fish, fresh sushi, pasta and risotto, homemade sweets and ice creams.
Tel: (+357) 25321500|Find Columbia Plaza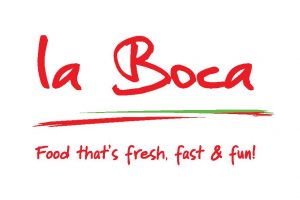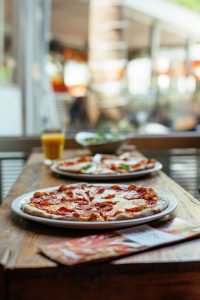 The Italian restaurant La Boca is located in the beautiful, main courtyard of Columbia Plaza. By browsing the menu you can find Italian pasta dishes, pizzas and salads.
Choose your pasta from a wide variety of pasta, including gluten-free pasta and organic choices, all fresh and prepared in the laboratory located on the floor above the restaurant where it is visible to its guests.The restaurant offers 14 kinds of fresh pasta and delicious sauces.
What will you choose? It depends exclusively on the moment's availability and your preference.
La Boca is designed for all age groups looking for quality Italian cuisine in a relaxing and friendly environment.
La Boca offers not only quality meals but also a unique dining experience, which visitors can enjoy during the day.
Tel: (+357) 25278000| Find La Boca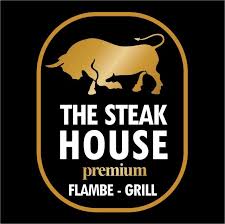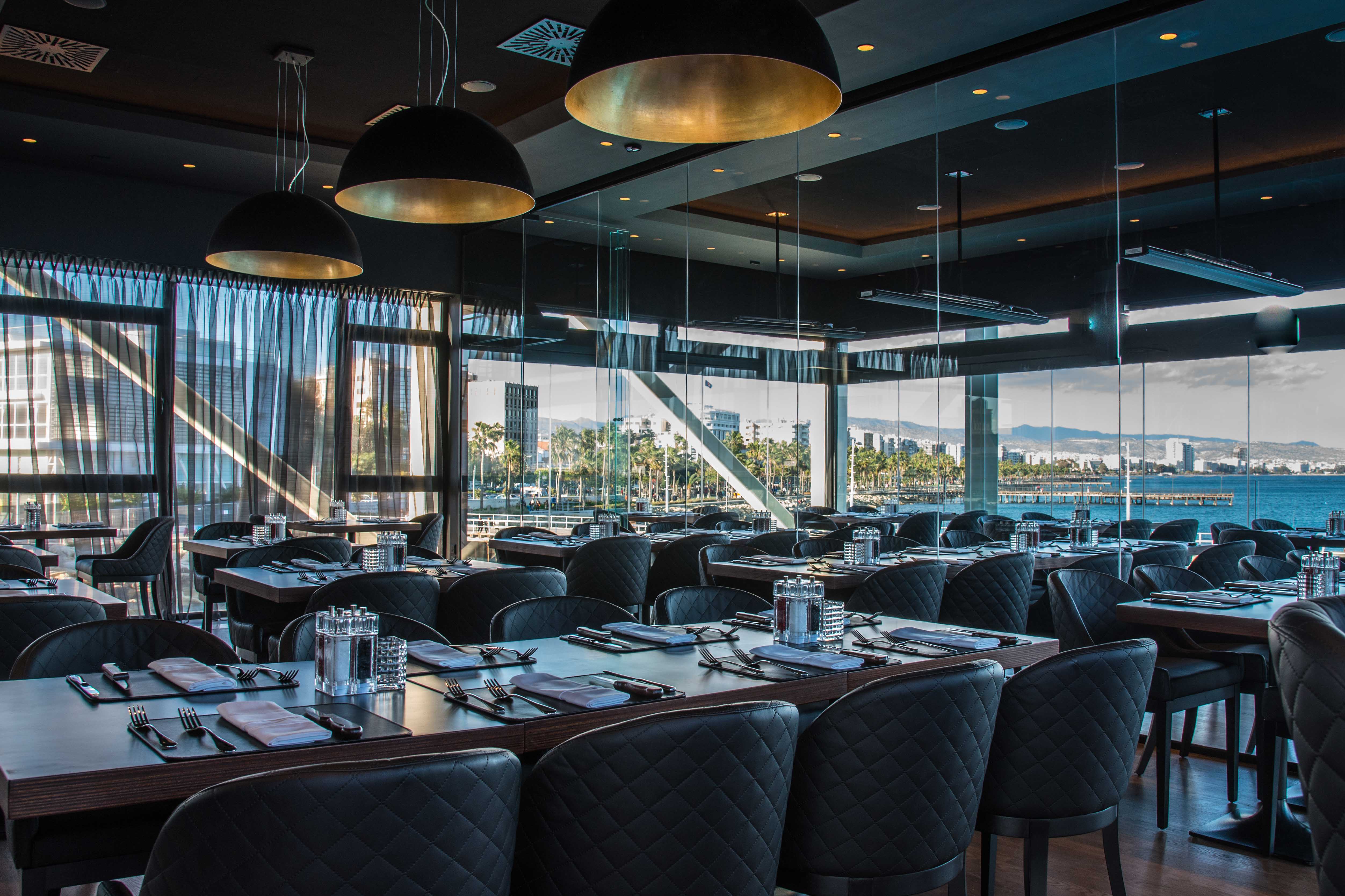 The steak house is a modern restaurant located in the prime area of Limassol Marina, high above the sea, with large glass windows and wonderful view of the coastal road.
It emphasizes meat specialty in American Black Angus steak, New Zealand steak and Japanese Wagye.
The rich menu of The steak house includes salads and starters, salmon and fresh lobster from the restaurant. The restaurant has a great wine list from Cyprus and international vineyards. The people at The Steak House provide excellent service always with a smile.
Today, this restaurant, with the company's thirty years of experience, raises the bar of restaurants in Cyprus even higher, since 'Steak House' has won first place in the category 'Luxury Steak House, Winner of Eastern Europe for 2017 'of the world's most renowned' World Luxury Awards' and has become one of the world's finest Steak House among hundreds of other restaurants that participated in the contest.
Tel: (+357) 99988180,| Find The Steak House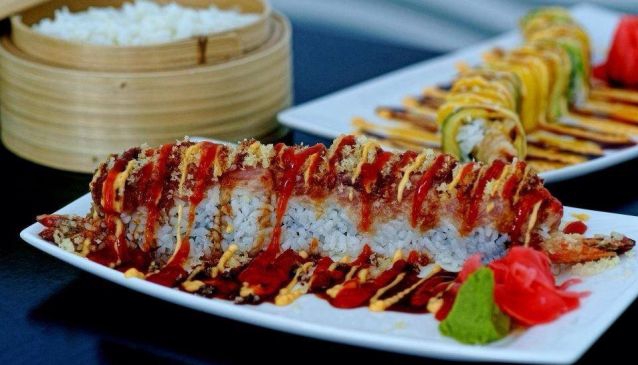 Benzai is a restaurant that has become very popular in recent years in Limassol and is the ideal place for the lovers of Japanese cuisine.
With dedication to Japanese cuisine and culture, the Benzai Sushi Bar offers you daily enjoyable evenings, accompanied by fresh sushi, cool cocktails from the bar and a warm friendly atmosphere.
Both the highly decorated interior space and the outdoor courtyard give you space to experience the ultimate Asian dining experience in the city.
The authentic Japanese recipes of the restaurant, as well as the delicious sushi, will satisfy even the most demanding visitor.
Tel: (+357) 25588282 | Find Benzai Sushi Bar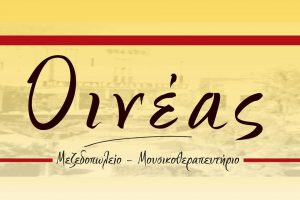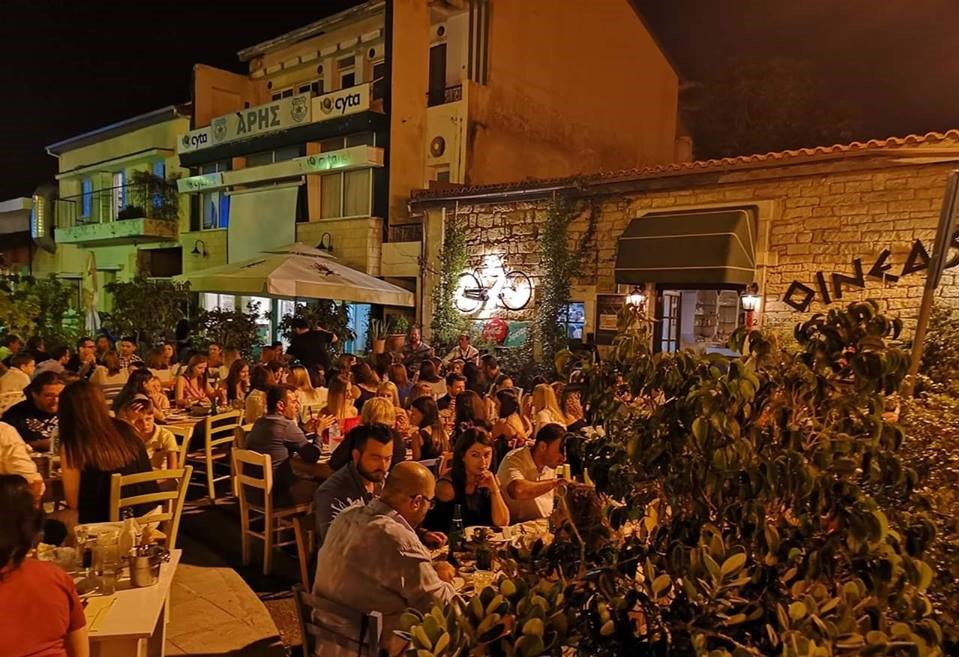 Mezedes arrive in brave portions, the wine flows abundantly and the musicians move from table to table, creating a great atmosphere, at Oineas tavern which is located in the heart of Limassol, at the historic and picturesque Heroes square.
As a reference point in Heroes Square, this tavern is a favorite choice for all seasons, for those who want to enjoy delicious, traditional meze and music.
During the months, when the weather allows tables out, the beautiful courtyard adjoining the square creates an idyllic scenery that reminds of something from the old times of the area.
Tel: (+357) 96402323 | Find Oineas Mezedopoleion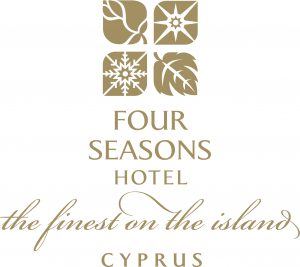 Seasons Oriental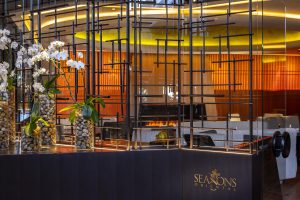 Seasons Oriental, a famous Chinese restaurant has just received a full renovation in 2018 and has the undeniable award of being the best in its category in Cyprus. Chef Guan Ruijong and his team offer an unrivaled choice of Cantonese taste sensations.
Seasons Oriental is multi award winning restaurant.
Tel: (+357) 25858000 | Find Seasons Oriental
Vivaldi Mediterranean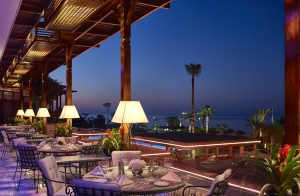 Vivaldi Mediterranean offers fresh, fine Mediterranean cuisine. In conjunction with the famous Cypriot Michelin star chef Andreas Mavrommatis, based in Paris and building on the success of our 10 year relationship.
Mavrommatis' recipe for success has been based on the simplicity of market fresh Mediterranean ingredients.
Vivaldi is a multi award winning restaurant.
Tel: (+357) 25858000 | Find Vivaldi Mediterranean
Seafood Bar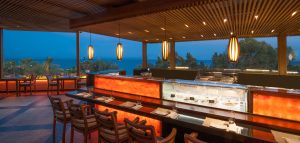 Seafood Bar, Adjacent to the view Terrace and providing beautiful outdoor sea views. The latest addition to the Four Seasons culinary offering is open every evening from May to October. Diners can enjoy, Tapas style, appetizer's, delicious sushi & Nigiri, a range of fresh Oysters and Oyster creations , in a relaxing informal atmosphere excellent for grazing with champagne over long summer evenings.
Open May to October for dinner only.
Tel: (+357) 25858000 | Find Seafood Bar
Colors Café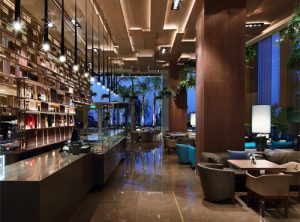 The most popular venue in Limassol with a completely new look and feel.
Stylish and casual, this fine cafe Patisserie and Gelateria is the place to relax with friends and family.
The menu with signature cakes and ice cream as well as croissants, salads, sandwiches and a range of home baked fresh bread can keep you coming back for more!
Tel: (+357) 25858000 | Find Colors Cafe
Tropical Restaurant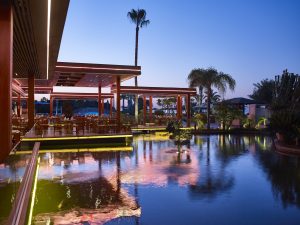 Tropical Restaurant, Lush green living walls accentuate the tropical surroundings of our newly renovated all day feeding venue.
The perfect setting for a meal or snack. The reastaurant offers buffet breakfast, lunch & dinner. A la carte all day dining. Healthy choices, vegetarian and children's' menu.
Tel: (+357) 25858000 | Find Cafe Tropical

Kalypso Restaurant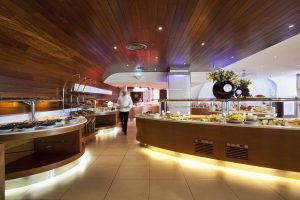 The all-day dining room and terrace on pool level serves two buffet meals daily, as well as an à la carte menu, and snacks in the afternoon.
The lavish breakfast spread with cooking stations is included in your terms of stay. Lunch options an international kaleidoscope of flavours.
Tel: (+357) 25832000 | Find Kalypso Restaurant
The Grill Room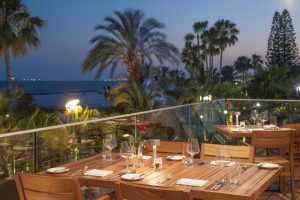 This is the house of prime cuts of meat from round the world, as well as fish and poultry, cooked in the world-famous Josper grill/oven, renowned to bring out the qualities of each carefully sourced ingredient.
The champion sommelier of Cyprus can guide you through the international wine list, to make your dinner a wonderfully balanced meal – whether you prefer to dine inside or on the terrace (Open May – October), just some meters above the sea.
Tel: (+357) 25832000 | Find The Grill Room
The Cyan
Intimate, elegant, and international.
These are the words to describe the Cyan restaurant, that serves a well-rounded menu of authentic local specialities and international favourites.
For a quiet dinner for two, with friends or associates, Cyan could be a formal restaurant where you can't go wrong.
Open November to April.
Tel: (+357) 25832000 | Find The Cyan
Kalypso Gardens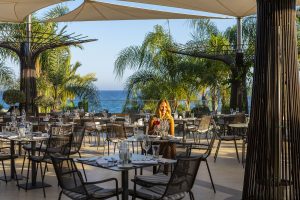 Enter the fresh Kalypso Gardens restaurant and let its finessed environment offer you with a memorable evening. The makeover of the Kalypso Gardens gave it a brand new character and enhanced atmosphere.
The new style, a blend of glass and stainless steel is offset by the timeless aesthetic of the blossoming bougainvillea plants that spread in their unique steel structures providing uninterrupted views to the Mediterranean Sea.
Seven completely different themes nights during the week -each one with its own character, dishes and live cooking stations- will enhance your dining experience which will be complimented by live music or one of our spectacular shows.
Open May to October.
Tel: (+357) 25832000 | Find Kalypso Gardens
Limanaki Fish Restaurant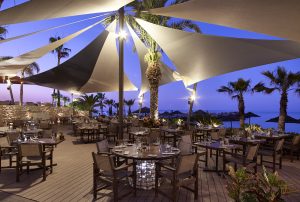 Known and acknowledged as the best fish and seafood restaurant in Cyprus for over 30 years, Limanaki is literally only a few steps from the water.
Its success is based on the assurance that the fish you're served in the evening was swimming in the sea that morning; and there's an professional on hand to inform you all about the big selection of oysters, fish and other seafood on display
Open May to October.
Tel: (+357) 25832000 | Find Limanaki Fish Restaurant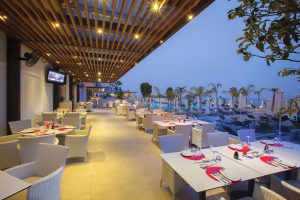 The philosophy behind Akakiko is simple – easy Japanese Fusion with prime quality healthy food.
Our menu offers a variety of fresh sushi, sashimi and Maki, starters like Popcorn Shrimp, dim sum and Thai calamari and delicious hot dishes like Duck Sweet and Beef fillet Teppan.
Perfect service from exceptional staff completes the model of modern Japanese cuisine.
Tel: (+357) 77778022 | Find Akakiko Limassol