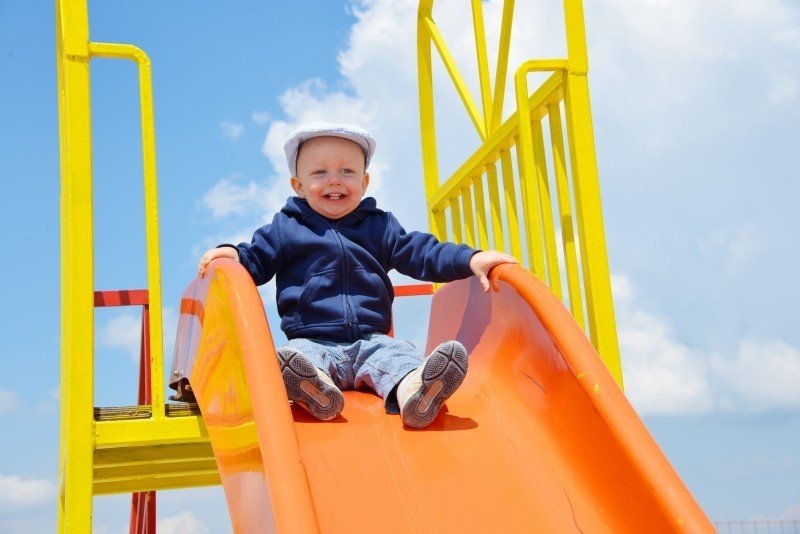 WaterWorld Themed WaterPark
The multi-awarded Waterworld Themed Waterpark in Ayia Napa celebrates 22 years of excellence and innovation.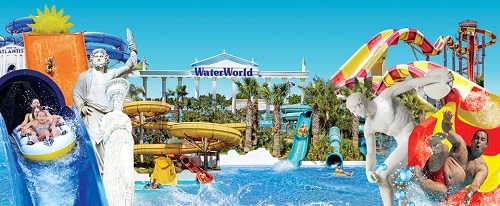 Presenting the ancient Greek gods through its unique games and innovative rides, Waterworld Waterpark managed to earn 29 International Awards of Excellence for marketing and innovation.
What is more, the Waterpark gain worldwide recognition when it was featured on CNN among the top 12 waterparks in the world. Among others, they presented "Fall of Icarus", the world's first Boomerango ride, the three person raft ride "Drop to Atlantis", "Aphrodite's Baths" adult pool, Lazy River and many more.
Let yourself get carried away in the Greek mythology and enjoy the in-house amusement such as games for kids, dance aerobics, acrobatic shows, spa facilities and don't forget to get your souvenirs!
Tel: (+357) 23724444|Find Waterworld Themed Waterpark
Masterland
You can hardly earn a child's attention and if they dont like something, they will usually express it immediately and completely spontaneously without a second thought. Masterland in Limassol is the place that will not only keep children's interest unimpaired, but will also get them excited with the variety of activities for kids.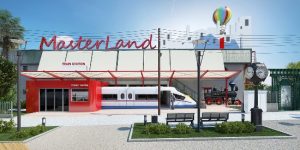 This is a very different and completely authentic space for Cyprus as it combines fun and entertainment with learning and education. It is actually like a small state where children come into contact with various professions in a direct and interactive way through almost real conditions. Masterland is an area where children will get in touch with the adult occupations and form their own view of each of them.
Masterland is a splendidly designed area, which its owners decided to create after discovering the lack of similar interactive activities for children in Cyprus. In Masterland, children from 4 to 15 years of age can work as builders, bank employees, firefighters, doctors, surgeons, chefs, dentists, police officers, postmen, painters, nurses, detectives and more. An interactive game of professions that even gives them the possibility to secure some kind of salary.
Children can choose which service they want to work and stay there for half an hour where they will take part in the corresponding masterclass workshop.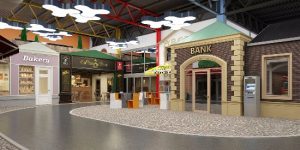 Children through play will take on various roles, learn about life and work in the real world, acquiring new knowledge, skills and experience.
In the hospital, for example, they will learn about First Aid and for all the different organs of the body in the bank they will learn about the use of the money and in every professional space they choose will draw all the information that a child can perceive to understand through play every profession.
Entrance fee: € 20 for each child and € 5 for parents accompanying them.
*With a 20 euro ticket, the child has 4 hours of work at the venue where he can take part in 4 different workshops.
Tel: (+357) 25310012|Find Masterland
Petrides Farm Park
Petrides Farm Park is located at Marki, Nicosia and gives the opportunity for children and parents to entertain in the large farm grounds and to spend their weekends beautifully. Petrides farm park is a great destination for friends and family, young and old.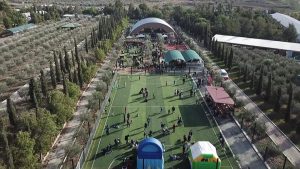 At the farm there are many animals such as sheep, goats, peacocks, piglets, ostriches, turkeys, donkeys, guinea fowls, Belgian hare, ducks, geese, ponies, horses and more. Guests can walk 2.5 km on the pedestrian walkways of the farm. There are 3 special soccer fields, cafes and playgrounds that make up an ideal place to stroll with children, family, and friends.
At the farm there are organized educational visits from kindergartens and schools where children meet the farm animals closely and learn about each animal separately, they can feed them and learn to love them.
In the park several events, birthday parties, corporate meetings,and other happenings are held.The place is also used for companies to organize training for their staff together with several team building games and tightening relationships to increase productivity among employees .
Tel: (+357) 22525255|Find Petrides Farm Park
Pony Park
The pony, these petty and graceful little-sized horses that we all love have acquired their own park in Limassol. The Pony theme park is located in Tsiflikoudia area in Limassol and is an oasis for young and old where they will enjoy their time.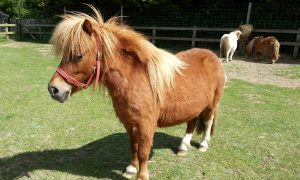 This cute park with the beautiful pony therefore awaits its visitors for a unique experience!
Children can be busy with many activities, such as cute pony rides, inflatable fun, walks to the artificial lake with ducks and more and more fun!
Park parties and school excursions are organized for children. There is a well-organized café and a restaurant with delicious food.
Entrance fee: € 5 children
Tel: (+357) 70007000|Find Pony Park
Linear Park Pedieos
The project starts from the bridge of Chryseleousa Street, near the Presidential Palace, and reaches Giorκeio at the bridge of Chilonos Street. It is a pleasant 2.6km walk, with its eucalyptus, rich vegetation and the riverbank having a leading role.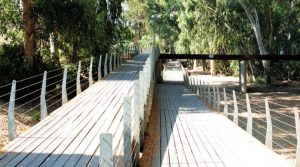 The route passes almost through the river and is full of eucalyptus while passing through a footbridge following a parallel course with the Pedieos and reaching the Red Cross road. It then continues through the traditional place of Agioi Omologites where it passes under the bridge of Griva Digeni Avenue and joins with the park opposite the church of Timios Prodromos near the Ministry of Health.
In order for the project to be intimate and to keep the balance of human intervention with the natural environment, materials such as wood,and stone were used.
Find Linear Park Pedieos
Riverland Farm
Riverland Bio farm is located at Kampia village. During the weekends Riverland offer "family adventures", which are essentially guided hiking which follows a beautiful route in the heart of nature, among rivers, canyons and lush vegetation.
Upon return from the hiking a biological brunch of their own production is offered, and there are activities such as pony and horseback riding, archery, beekeeping, and even kayaking for the more daring.
Lastly, there is a guided tour of the farm, where children have the opportunity to see the premises and the animals, as well as the process of milking, after being given the opportunity to milking (always guided) a goat!
The place is guaranteed that will leave you loaded with memories and organic products!
Find Riverland Farm
Fasouri Water Park
Fasouri Watermania Waterpark in Limassol has been awarded by the world's largest travel website, as the 3rd Best Waterpark in Europe, and one of the best waterparks in the world.

The international recognition is a huge reward for both the "most joyful waterpark" team on the island and Cyprus in general, since a tourist destination of our country is one of the world's first choice of tourists.
Fasouri Watermania Waterpark, emphasizing the needs and requirements of both domestic and imported tourism, designed and implemented dynamic partnerships with tour operators and agents, made special offers for families, and further strengthened the security sector in the park.
The Limassol waterpark features the widest range of themed toys for both young and old, as well as a variety of cafeterias and services, making it the most attractive and cheerful destination for the summer.