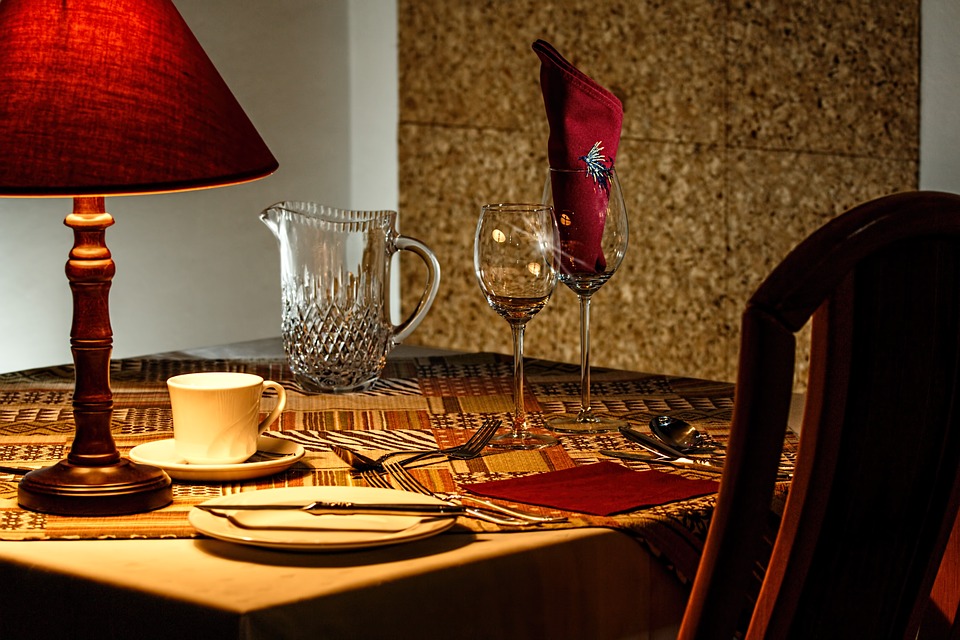 Ayia Napa and Protaras, are a great example of tourist areas with excellent food. There are several restaurants offering good food, inspired mainly by the Mediterranean flavors, without missing out on the luxurious menu of restaurants from the international gourmet scene. Below are our top Famagusta district dining suggestions.
---

Isaac Family has traditionally been involved in agriculture for almost seven generations raised with traditional Cypriot morals. For that reason, we created Isaac's Tavern, named after our father, in order to reciprocate our love for him.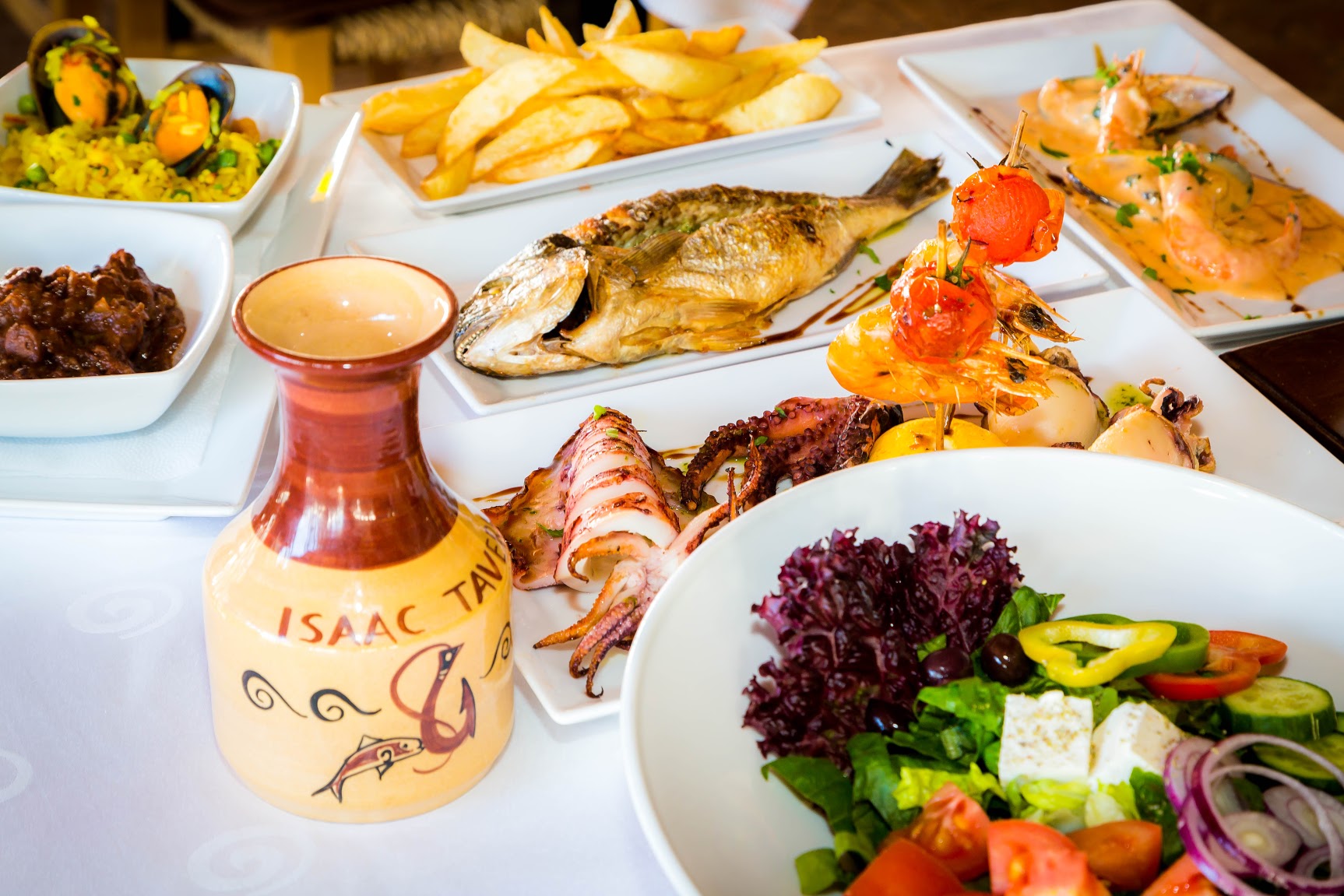 We pick our raw materials from local producers, to ensure excellent taste as well as quality.  With local, traditional recipes, we create uniquely delicious dishes.

We have a variety of fresh fish cooked to tingle your senses.  We highly recommend you try the fish-appetizer, consisting of Cypriot appetizers and fresh seafood such as octopus, squid, cuttlefish etc.

If you are looking for something different, you should try sauté squid or shrimp kebab or seafood lasagna with the signature of our chef.
Tel: (+357) 23723586 | Email: [email protected] | Address: 77-79 Makariou Str. Limanaki, Agia Napa, 5330 Famagusta 
---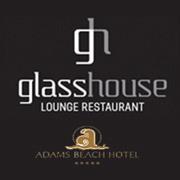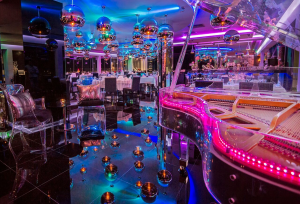 Glasshouse Lounge Restaurant is an impressive restaurant with excellent food and unique décor. Glass balls, glass piano and mirrors on the walls will make you feel like you live in a fairy tale or in another dimension.
The balcony offers beautiful view and is one of these "good restaurants" that are now established as a top restaurant in Famagusta district. With a cuisine that, while is giving emphasis to Mediterranean flavors, has managed to turn them into a unique gourmet gastronomic experience.
Its decoration, with the large balls that descend from the roof and its view of Nissi Beach and Makronisos, makes your whole experience unique.
The Glasshouse is located at the 5th floor of Adams Beach Hotel. Glasshouse Lounge Restaurant is a place, special, tasteful,with high aesthetics and gastronomy that will offer a really great experience.
Tel: (+357) 97775775 | Find Glasshouse Lounge Restaurant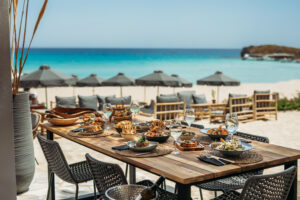 Isola is a chill-out all day beach bar, right on Nissi Beach, offering daybeds for rental.
Visit Isola beach bar day and night for coffees, detox drinks, cocktails, music and Med inspired menu.
The scenic beach bar is serving food and drinks from 10a.m till evening.
Make your stories at Isola…
Tel: (+357) 99273056 | Find Isola Beach Bar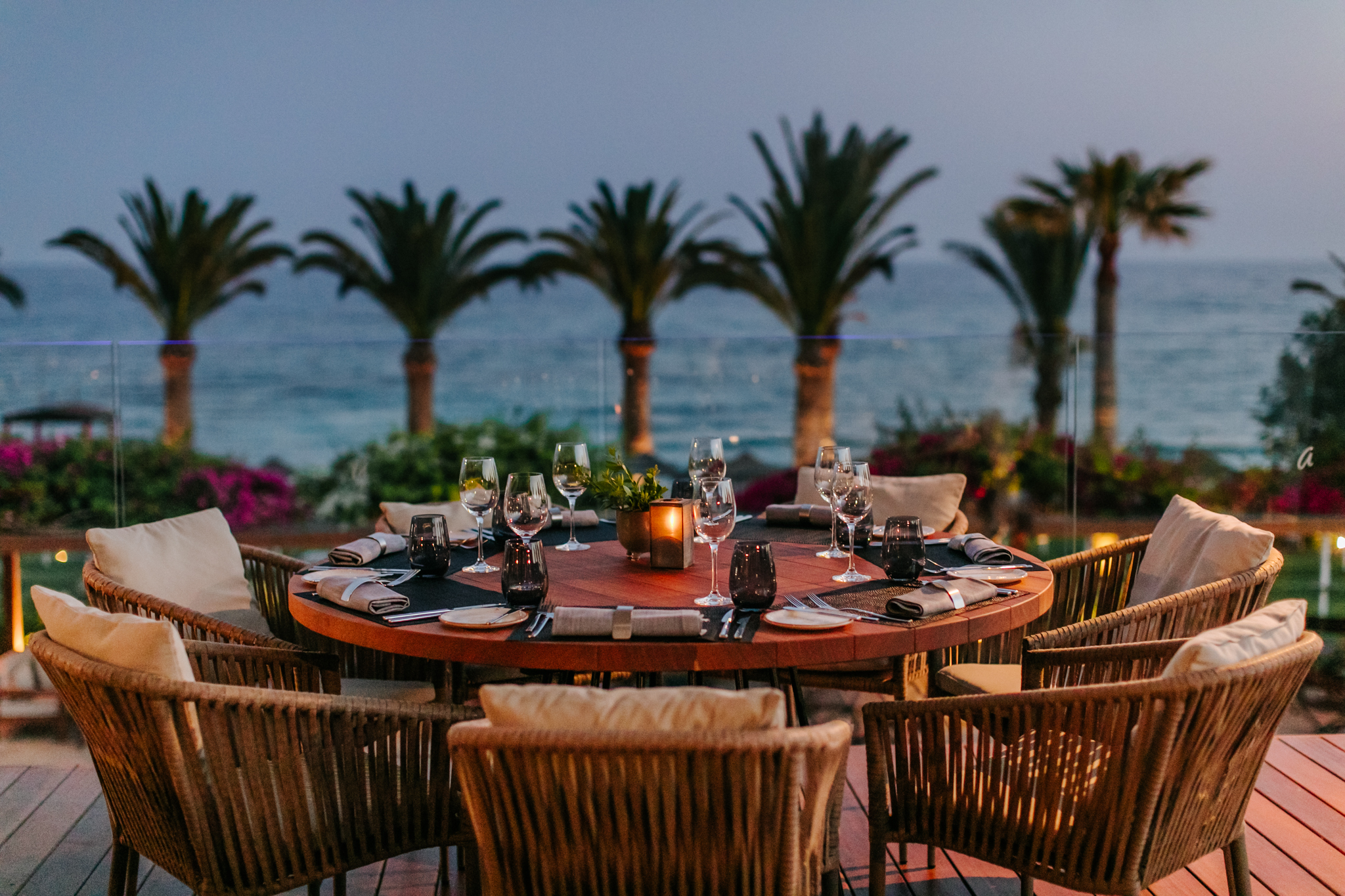 Have a cocktail and enjoy the stunning sunset at The Deck Terrace Restaurant followed by dining al fresco under a starry summer sky.
At the Deck, you can enjoy high appraised à la carte Mediterranean delights and gourmet dishes which garnered the restaurant a second position on TripAdvisor.
For a romantic dinner, a special occasion or just because you deserve a treat, The Deck will provide the perfect scenery accompanied by friendly and attentive waiters.
The Deck is on the terrace of the Alion Beach Hotel and is open from 19:00 to 23:00 every evening from April to October.
Tel: (+357) 23722900 | Find The Deck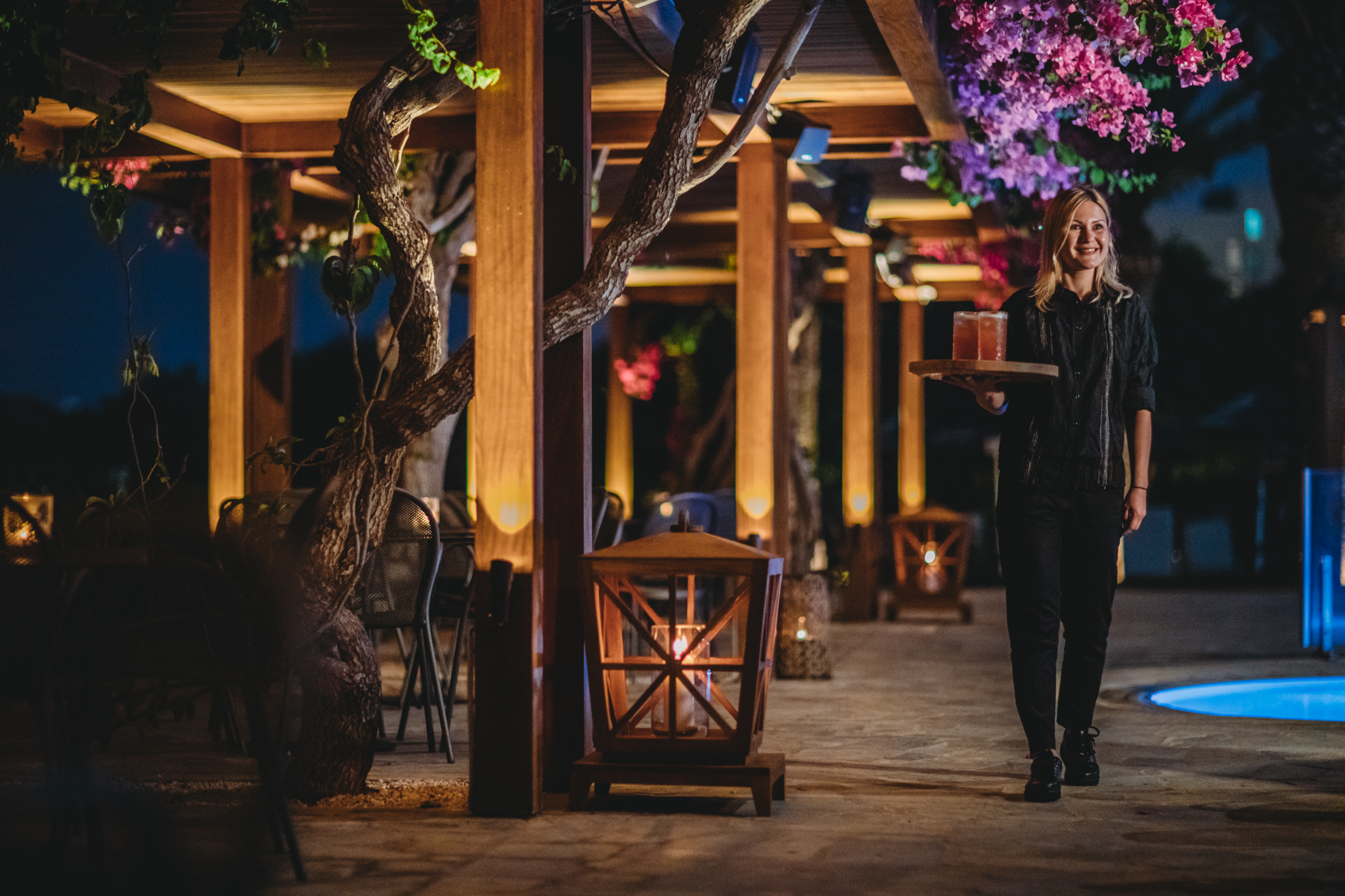 iPanema Lounge Bar offers an epicurian travel via a fusion of tastes from Peru to South America. Listen to samba like tunes in a laid back, speak-easy atmosphere so gentle as the lyrics go.
The iPanema Lounge bar is ideal for those looking for tantalising, eclectic cocktails and a relaxing environment.
The Lounge bar is in Alion Beach Hotel next to the pool and is open from Spring till the end of the summer season.
Tel: (+357) 23722900 | Find iPanema Lounge Bar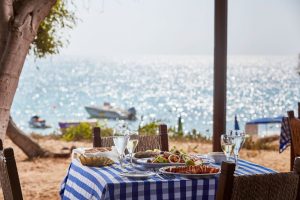 Fisherman's Hut tavern will definitely be one of the highlights of your vacation.
This open tavern, located on the beach offers a wonderful quality of fresh fish specialties, either for lunch or for a splendid romantic evening out.
Open during the summer months (April – November)
Tel: (+357) 23842000 | Find Fisherman Hut Tavern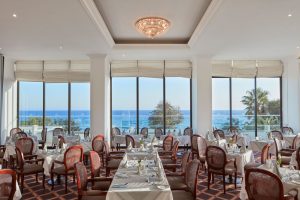 Located at the ground floor of the Grecian Bay Hotel, Esperia restaurant is the place to conclude your day with an exceptional meal. You'll be able to select your dinner from their tempting "Table d'hôte" menus or the splendid themed buffets while enjoying your favorite wine.
Their wine list is carefully chosen by our team of specialists and it's constantly updated to meet the client's needs.
Open: All year round – dinner
Tel: (+357) 23842000 | Find Esperia Restaurant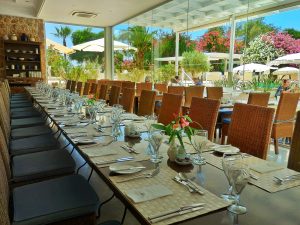 Aurora Café Restaurant located at pool level at Grecian Bay Hotel, this all day dining restaurant is the ideal one to start off your day.
Wealthy breakfast buffet is set up in order to offer you a flavourable beginning to the day.
Enjoy a leisurely lunch choosing from a variety of tastes on the menu to cater your appetite.
Open: All year round – All day dining
Tel: (+357) 23842000 | Find Aurora Cafe Restaurant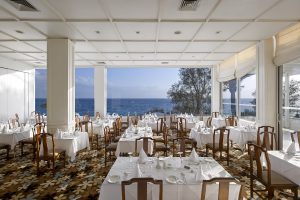 Ithaka Restaurant with panoramic views of the Mediterranean Sea located on the ground floor at Grecian Sands Hotel, they welcome you with a tranquil and warm atmosphere.
Dining choices include their delicious table d'hôte or tempting a la carte menus or our extensive buffets. Their team has carefully selected an assortment of wines that may accompany your meal.
Tel: (+357) 23721616 | Find Ithaka Restaurant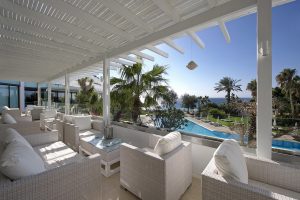 For many of Grecian Sands Hotel guests, the evening begins at the Ulysses Bar that has an adjoining shaded terrace overlooking the gardens and beautiful Mediterranean Sea.
This premier setting is designed to make a relaxed ambiance to relish the afternoon sun and the evening under the stars. Serving the best aperitifs, wines and classic cocktails be sure not to miss the music programme offered during your stay.
Tel: (+357) 23721616 | Find Ulysses Bar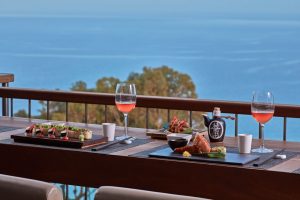 UMI Japanese & Sushi Bar Restaurant located on the fourth floor garden terrace at Grecian Park Hotel and is one of the top Japanese restaurants on the island.
Dine overlooking the Mediterranean in a very cozy and relaxed atmosphere. Professional chefs can take you on a journey of Japanese & fusion delights.
Open from April-November
Reservations Required
Tel: (+357) 99214800 | Find UMI Japanese & Sushi Bar Restaurant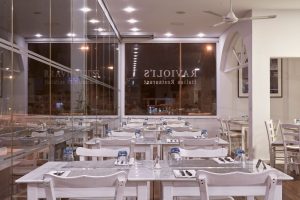 Italy at your doorstep! Ravioli's Italian Restaurant located opposite the Grecian Park.
An Italian masterpiece can surely leave your tastebuds amazed!
Serving stoned ovenbaked pizzas and freshly ready pasta accompanied by mouthwatering starter courses.
Open from April-November
Tel: (+357) 23844092 | Find Ravioli Italian Restaurant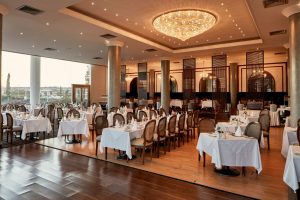 Antaeus Restaurant  located at Grecian Park Hotel, serving delicious local and international cuisine.
Providing a 4 course menu during some evenings and a themed buffet meal over some evenings.
Theme nights don't seem to be missed with a grand buffet spread and live music to accompany your meal during some theme evenings, a live show also will entertain you.
Tel: (+357) 23844000 | Find Antaeus Restaurant