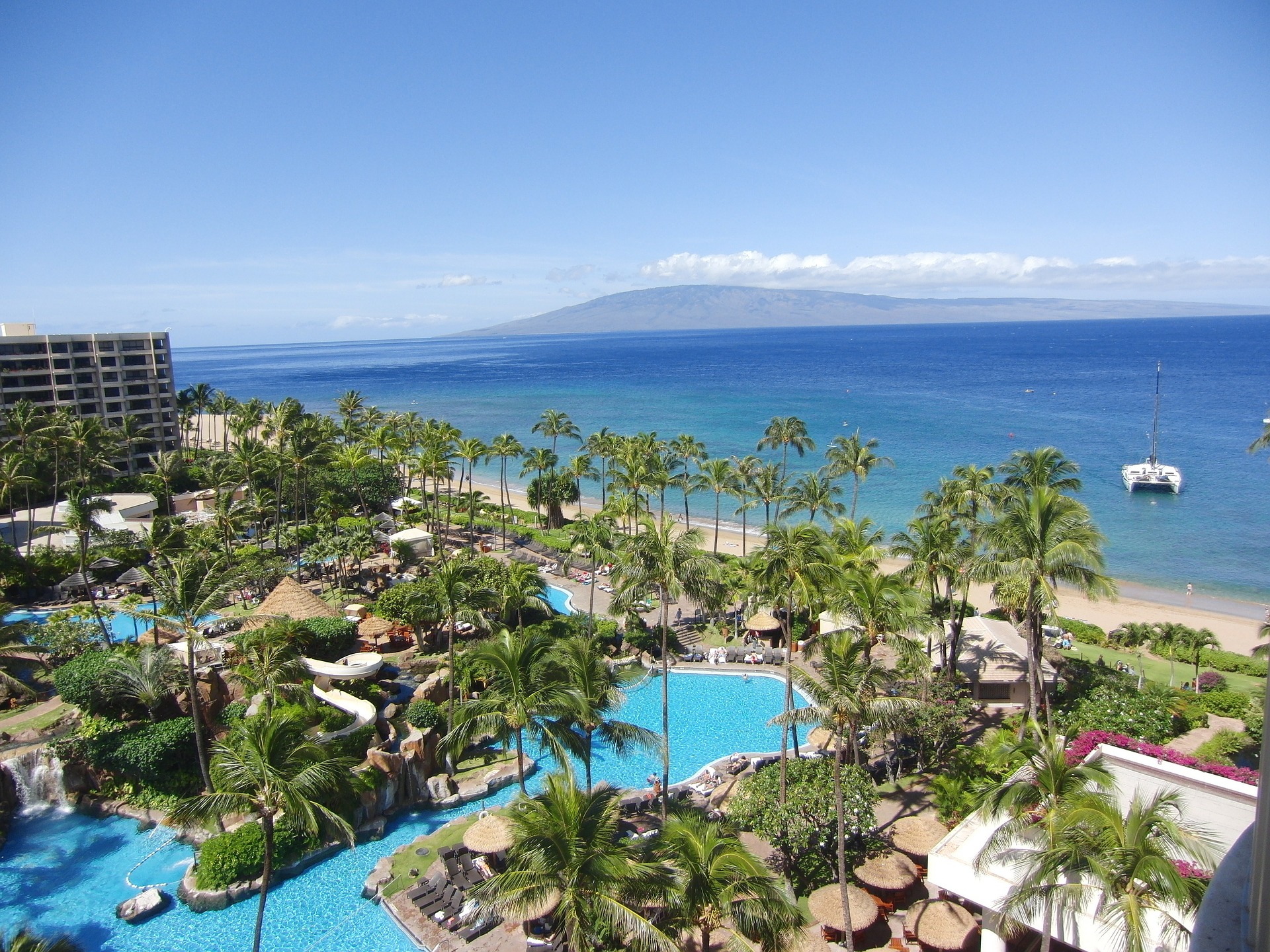 Paphos is a lovely city located in the southwestern a part of the island, is well known as the center of worship of the ancient goddess Aphrodite.
Paphos is a seaside and highly tourist city, so it makes sense to enjoy water sports very popular, especially around the harbor and the tourist area. You can try kayaking, paragliding and water sports.
At the seaside and the harbor area there are the classic tourist shops for the necessary souvenirs and small gifts. In the old city, it is worth exploring the narrow streets in the market area.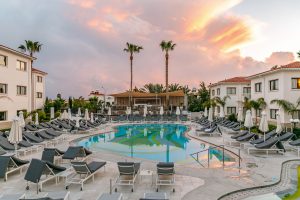 The King Jason Paphos is a 4 plus-star luxury hotel in Cyprus, located around 1km from Paphos Harbor. Only a few minutes' walk from King's Avenue Mall, the ancient Medieval Castle of Paphos, the archeological site of UNESCO heritage and the beach, King Jason hotel combines sightseeing holidays with shopping and authentic local experiences. At the same time, the quiet location is ideal for those who want to simply enjoy nature and relax by walking along the gorgeous beachfront promenade of Kato Paphos.
Tel: (+357) 26947750 | Find The King Jason Paphos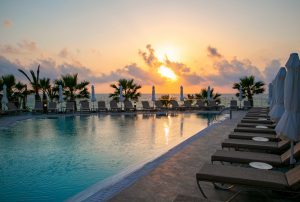 Louis Paphos Breeze consists of 144 Superior Studios and 1-Bedroom suites, all designed to make the most of their gorgeous natural surroundings and generate an atmosphere of complete harmony. Breathtaking Mediterranean vistas are complemented by chic decor based on natural textures and a soothing color palette inspired by the sea.
Louis Paphos Breeze takes the all-inclusive experience to a higher level with the addition of premium extras, dining choices, the speciality Greek restaurant 'Meze by Elliniko', and VIP guest services. The local Breakfast programme focuses on the authentic flavours of fresh Cypriot produce and wholesome Mediterranean ingredients. In Louis Paphos Breeze you can add a valuable dimension of wellness to your holiday with a full activities programme outdoor yoga sessions, cycling and jogging trails, and a Spa & Fitness Centre with indoor pool.
Tel: (+357) 26950200 | Find Louis Paphos Breeze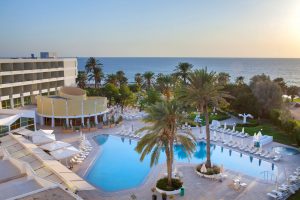 Louis Imperial Beach located on the shore of the ancient port of Paphos offers the modern traveller a level of comfort and elegance.
If you wish to relax by the beach or the freshwater pool you can enjoy refreshing cocktails from the Pool Bar.
The sumptuous buffets aspire to take you in an absolute gastronomic journey by providing tastes that will please the most demanding customer.
Louis Imperial Beach ambition is to earn your warmest smile giving you the promise to take a step ahead for you every time you come back.
Tel: (+357) 26965415 | Find Louis Imperial Beach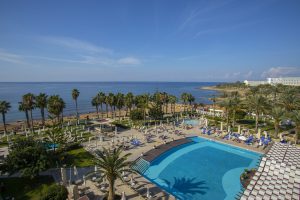 A hotel with high standards of accommodation and service, ideally located on the sea front and only five minutes' drive from the historical port of Paphos. Only steps from major attractions, shops and entertainment, our hotel let you simply to explore the entire Paphos area and all the beauties it has to offer.
Louis Ledra Beach combines quiet, relaxing and cozy environment with a very friendly atmosphere. Everything has been designed to the last detail to satisfy every guests needs. If you fancy taking yourself off to a spectacular oasis with style, you can try the elegant indoor pool area or relax by the freshwater outdoor pools and enjoy refreshing drinks from the Pool bar.
Tel: (+357) 26964848 | Find Louis Ledra Beach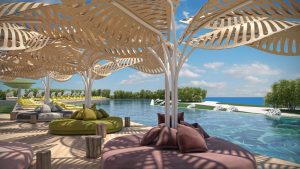 Situated directly on the beach of Kato Paphos, the luxury beach front hotel Louis Ivi Mare is the excellent oasis for visitors seeking a premium Mediterranean vacation.
With its blend of exquisite personal service, tasteful decor, luxurious rooms and dedicated quiet areas, guests can enjoy elegance, comfort and style in an exclusive atmosphere.
Tel: (+357) 22588211 | Find Louis Ivi Mare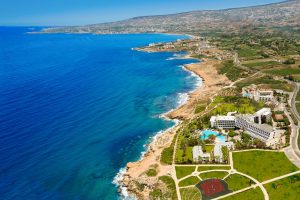 Surrounded by tropical gardens, this elegant spa hotel is located on the seashore five kilometre outside Kato Paphos. it's ideal for a relaxing and rejuvenating break on sunny Cyprus.
Soak up the warm sunshine on a sun lounger before diving into the Azia Resort & Spa's huge lagoon-shaped swimming pool. you'll be able to also find relaxation with one of the indulgent spa treatments and in the indoor pools, sauna or hot tub and join activities like yoga and water polo.
Stylish decor ranges from bright and contemporary to exotic, Arabian-inspired touches. Lounges are found by the poolside, along with several great drinking and dining venues.
Stay active with a game of tennis before a refreshing drink in the sunshine at the al fresco bar.
Chloraka is a nice choice for travellers interested in sunsets, relaxation and warm weather.
Tel: (+357) 26845100 | Find Azia Resort & Spa