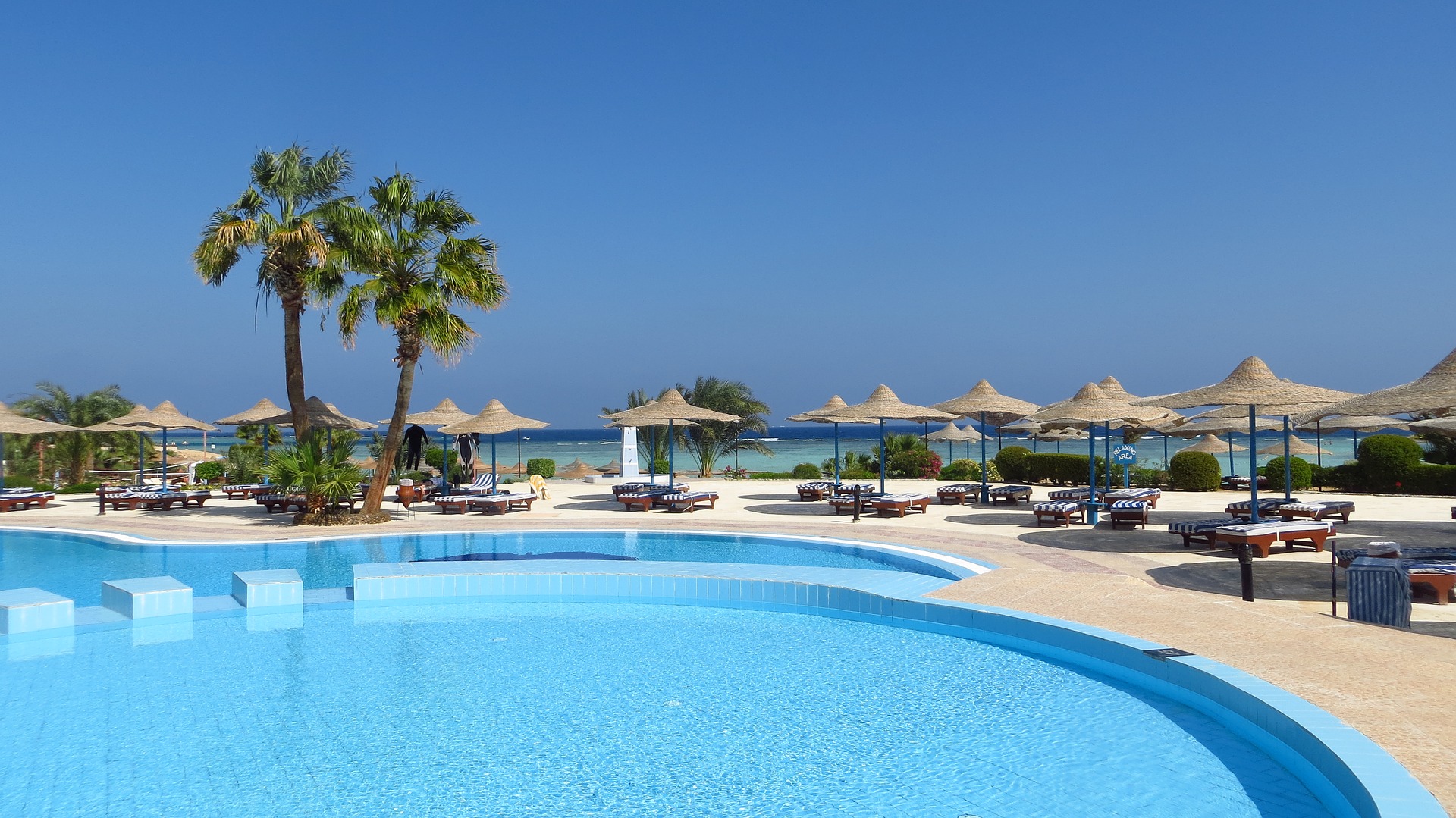 The largest municipalities in Famagusta are the municipalities of Paralimni, Agia Napa, Deriniya and Sotira.
Ayia Napa is the most popular tourist resort in Cyprus and a famous destination for many tourists from all over the world especially during the summer season. It is known for its picturesque, majestic beaches and cosmopolitan nightlife.
Tourist development both in the free Famagusta District has been spectacular, playing an important role in the tourism sector and the economy of Cyprus.
In Ayia Napa the parties start late in the afternoon and last all night. If beach parties are not your style, do not worry. You can explore a medieval monastery or enjoy a cruise on the magnificent blue waters.
Protaras is a true life-blessed paradise of golden sandy beaches with crystal clear waters, combining luxurious hotels, a joyful atmosphere and vibrant nightlife. All of the above make Protaras an ideal holiday destination.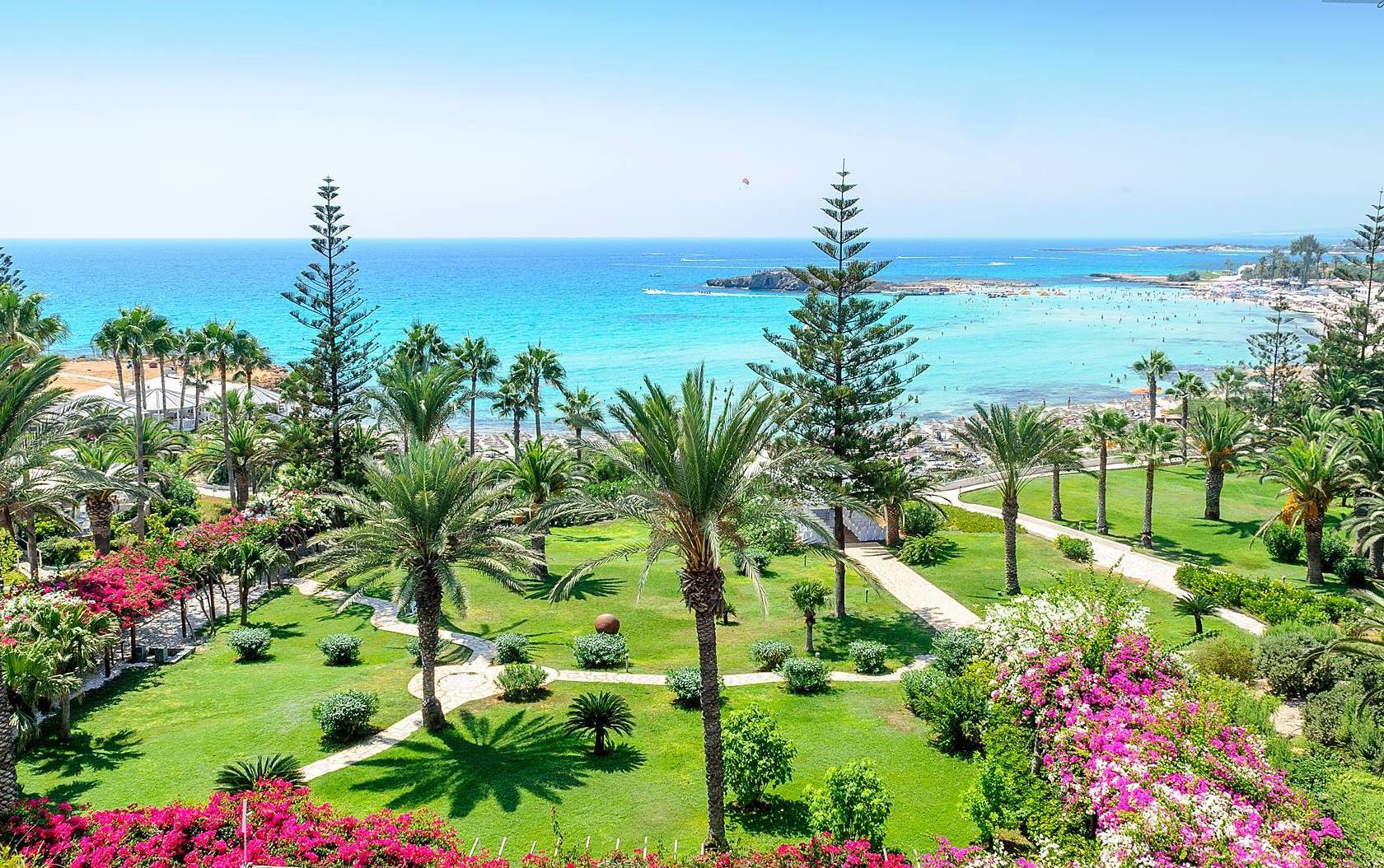 Stunning shades of blue.
Located in Ayia Napa, in the district of Famagusta, Cyprus, the Nissi Beach Resort has garnered a reputation as a real paradise destination that can be enjoyed year-round .
Situated on a bay with one of the island's finest white-sand beaches and turquoise blue, clear waters, the resort takes its name from the bay's little island ('nissi' in Greek).
The resort is close among extensive, lusciously beautiful gardens, featuring colorful Mediterranean plants and scented flowers, and could be a natural haven for a variety of birds.
The Nissi Beach Resort team looks forward to welcoming you for a magical and unforgettable visit. They are at your service to assist you derive the utmost pleasure from this oasis of leisure and relaxation.
Tel: (+357) 23721021 | Find Nissi Beach Resort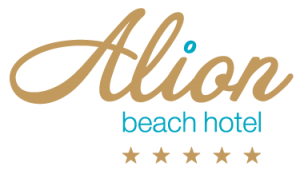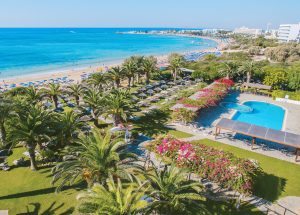 Philoxenia – the Greek word for hospitality – is a welcoming, a generosity of spirit, a joy of sharing… this is the philosophy that drives the Alion Beach hotel and the reason we treat you as an honoured guest, catering to your every desire.
The Alion Beach hotel and its excellent services provide the ultimate in relaxation and recreation. Unwind and enjoy your stay – allow us to take care of your each want.
The Alion Beach Hotel's 100 elegant and cosy rooms provide the optimum in refined living space, relaxation, and well-being. every space is tastily appointed to cater to your each need.
Attentively complemented by high-quality features, tasteful decoration, and superior amenities to ensure your ultimate comfort. The sea view rooms provide an unspoilt vista of the sapphire blue waters of the Mediterranean.
Just a few steps from the Alion Beach hotel stretches one of the most gorgeous white-sand beaches of the island.
Tel: (+357) 23722900 | Find Alion Beach Hotel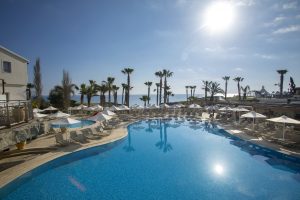 Louis Althea Beach built in the traditional monasterial style on a promontory of Pernera beach, Situated in Protaras, Cyprus, with its world famous crystal clear waters, golden sand and sunshine to last for a life time.
Overlooking the gorgeous water of Protaras, this Mediterranean holiday complex offers outstanding accommodation and services.
Tel: (+357) 23814141| Find Louis Althea Beach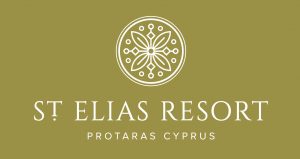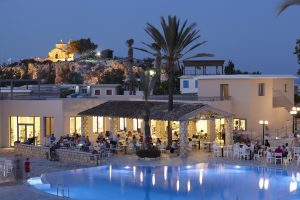 St Elias Resort & Waterpark reopened with a brand new face as a complete 4 plus ultra all-inclusive  resort in Protara.
In St Elias Resort & Waterpark you can enjoy a brand new 200m pool with Jacuzzi, 3 water slides to the existing pool (children below the age of 6 and/or under the minimum height of 120cm aren't allowed to use the water slides) and a fully renovated restaurant to enjoy you holidays.
A brand new spa consisting of a gym, sauna, steam bath and treatment room and there you can refresh your mind and enjoy your holidays.
Tel: (+357) 23831300 | Find St Elias Resort & Waterpark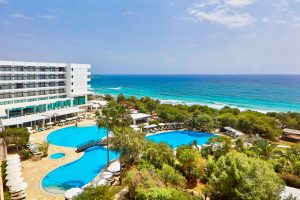 This luxury five-star hotel is located on the most stunning sandy beach in Cyprus with breathtaking views of the crystal-clear waters of the Mediterranean Sea.
The complex offers a world of amenities together with exceptional service and friendly employees. Along with three restaurants, coffee shop, bars, spa, and well-being center the Grecian Bay is known for its pleasant and welcoming atmosphere.
They will ensure to you that your stay will be truly unforgettable. There's much to do from relaxing under the sun on the beach to playing on the brand-new tennis courts or taking romantic walks within the gardens while the children are entertained in the kid's club.
The Grecian Bay pool is surrounded by sun loungers, large landscaped gardens with secret pathways, whereas pool service is accessible for gourmet bitings and beverages. The indoor pools are placed next to the Spa center the Jacuzzi pool is ideal for those who need to lie back and relax while in the heated pool, with views of the gardens is perfectfor guests to enjoy a swim in absolute tranquillity and privacy.
Tel: (+357) 23842000 | Find Grecian Bay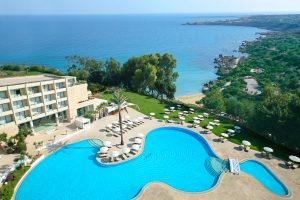 The 5 star Grecian Park is located to the national park of Cape Greco with breathtaking views of the Mediterranean. All rooms are furnished for today's traveller.
The hotel boasts 3 restaurants, a coffee shop and 4 bars including our UMI Japanese restaurant, our Ravioli's Italian restaurant and our exotic cliff bar.
Boasting one of the best spa hotels in Cyprus the Spa Centre including a fitness gym can leave you revamped and rejuvenated. Water sports are accessible at the beach along with a beach kiosk which is open daily, providing refreshments and snacks.
The Grecian Park hotel offers the experience and dedication you deserve to take care of your workshops, seminars and business meetings which can take place in our spacious conference rooms of your choice.
Planning your dream wedding in Cyprus and at the Grecian Park hotel is incredibly simple and enjoyable. Let us do all the wedding planning for you whilst you enjoy luxury accommodation, a peaceful and relaxing surroundings and the magnificent Mediterranean through the eyes of Konnos Bay and Cape Greco.
Tel: (+357) 23844000 | Find Grencian Park Hotel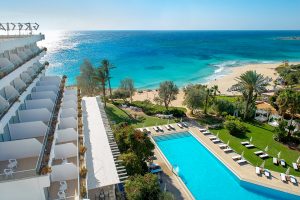 Located just minutes from the Centre of Ayia Napa which is one of the island's most seeked out destinations for sun and relaxation, the Grecian Sands hotel can ensure that your stay is going to be enjoyable and unforgettable.
Set on a golden sandy beach enjoying the crystal-clear waters of the Mediterranean, you may find much to do whether it's lounging round the swimming pool, sipping a cocktail at the bar or relaxing on the beach.
With a range of options available, we invite you to experience the gastronomic delights in our 'ROOF BURGER BAR' located on the highest floor of the Grecian Sands hotel, one of the highest and most stunning points on the Cypriot coastline. With beautiful views of the Mediterranean and in a world of its own, the Grecian Sands hotel will ensure that your special wedding day will be full of romantic memories.
Their vast experience and dedication you deserve to make your wedding in paradise come true. The island of Cyprus otherwise known as Aphrodite's island boasts one of the most romantic settings for your wedding.
Tel: (+357) 23721616 | Find Grecian Sands Hotel