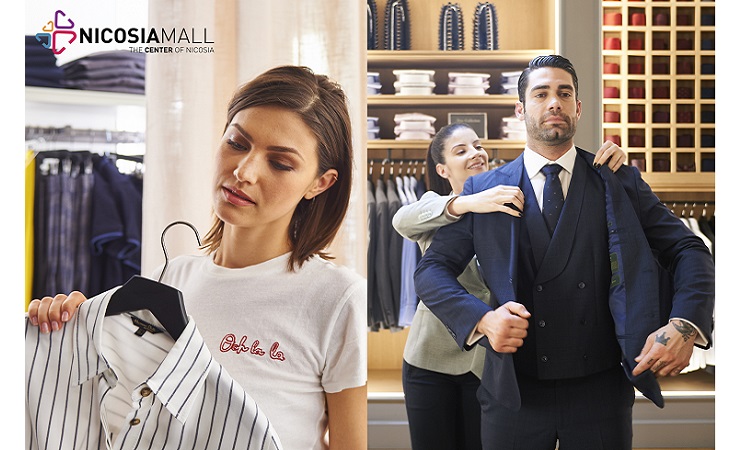 The secret to one's personal style is hidden in their attention to detail, their unique sense of taste, and, of course, in their choices.
Nicosia's new mall is, without a doubt, the ultimate shopping destination, for those who love style and are looking for something truly out of the ordinary. The shopping experience at Nicosia Mall is always tailored to your needs, with the largest number of stores under one roof, including many which can only be found here. Uniqueness, differentiation and the right retail mix have been essential qualities that have shaped the offering of Nicosia Mall from the very beginning and it is what keeps shoppers returning time and time again. True to its moto, Nicosia Mall offers incredible things, around the corner.
The new international brands in the Cypriot market
Among favourite stores you will discover leading international brand names which debuted in Cyprus at Nicosia Mall, such as Calvin Klein Jeans, Lee Wrangler, Under Armour, Camicissima, Puma, Reef, Napapijri, The North Face, Vans and Skechers. Their presence alone brings an international air to every shopping trip.
Multi-brand experiences
This special array of brands is expanded when you visit the multi-brand stores which have found their place within the impressive Nicosia Mall. Collective, Notos Club, Brandhouse and Milly's Story, which are also found exclusively at Nicosia Mall, offer the latest collections of labels such as American Vintage, Karl Lagerfeld, G-Star, Ted Baker, Paul's boutique, Sseinse, Scotch & Soda, Franklin & Marshall, La Martina, Lacoste, Gant, Superga, Vagabond and many more.
Shopping of any kind
Nicosia Mall's unique shopping experience is not solely focused on fashion. Here, you will also discover the brand-new destination for furniture and homeware, JYSK, which opened its first store in Cyprus, this April. You can also shop for groceries at the modern and spacious Athienitis supermarket, and find brands like Jo Malone, which are exclusively offered in Nicosia at the Beauty Line store of the city's newest retail landmark.
A world of infinite choices is available for you to explore, 7 days a week, offering a new, international-level shopping experience that goes beyond the ordinary. This shopping destination has been designed for every shopper who seeks variety and wants something special. At Nicosia Mall, you will find everything, in its best possible version
Discover all stores at www.nicosiamall.com
Source: Cyprusdaily