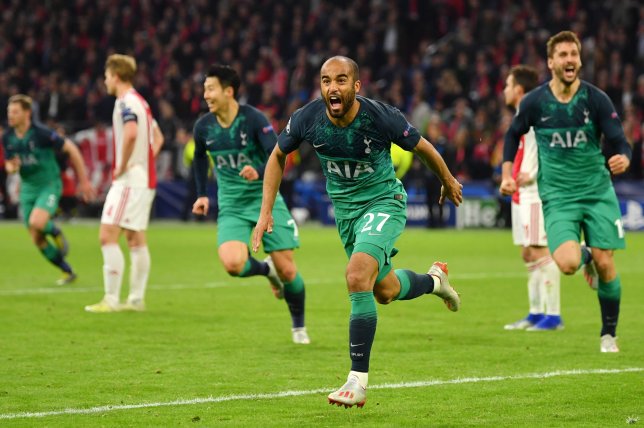 When all hope appeared to be gone, when the race appeared to be run, when the bodies seemed drained and spent, when they were 3-0 down in a Champions League semi-final with less than 45 minutes to go, then do not worry about a thing.
Just as the Ajax crowd finished its traditional half-time rendition of Bob Marley's "Three Little Birds", just as they began to believe that their dream of seeing their team reach the final against Liverpool, they were silenced. Spurs scored. Spurs found a way. They had the will.
A hat-trick by Lucas Moura did it as they fought their way back with courage and bravery and undying belief to go through on away goals – the same method by which they eliminated Manchester City in the quarter-finals. And this was just as dramatic with Moura's final goal coming deep in injury-time, just around the same time as the one ruled out by City's Raheem Sterling.
It meant that over this epic tie Spurs led for just the final two minutes of added time and they are through, through to the first European Cup final in their history, through to face Liverpool in what will be only the third final in European competitions to be contested by two English teams.
What a worthy final it will be. Two excellent, courageous sides led by two charismatic, remarkable managers. Mauricio Pochettino and Jurgen Klopp are kindred spirits in the way they connect with their players, with the fans and the energy and soul they bring. They manage two sides who are Monsters of Mentality.
Afterwards Pochettino dissolved in tears. This time there was not the primal roar that greeted eliminating City. It was far too emotionally taxing for that; it felt even more overpowering. He really is magic, Mauricio Pochettino, you know?
Harry Kane brushed aside his ankle injury to sprint on the pitch, dodging through the red-and-white-shirted Ajax bodies as this sparkling young Dutch side collapsed in disbelief at what had just happened to them, when it appeared that Spurs were going the way of Real Madrid and Juventus.
But Spurs do not give up. Pochettino never gives up. Often during this Champions League run they have appeared out and yet they have survived. They have picked themselves up and brushed off the adversity and the dwindling numbers and the stacked odds.
Heroes have emerged. New heroes, superheroes Pochettino called them all, and this was Moura's night as the Brazilian scored three brilliant goals of pace and skill and tenacity. But it was also a night for that warhorse of a striker, Fernando Llorente, who came on at half-time because Pochettino had no-one else he could turn to, and, in old-fashioned parlance, put himself about.
Llorente made a significant difference and not least in the decisive goal. There was a long punt forward from Moussa Sissoko, the kind of hit-and-hope that was all he could summon at that stage with Llorente showing his wiles to back into and unbalance Ajax's brilliant young captain, Matthijs de Ligt, who had started the scoring.
The centre-forward improvised to knee the ball into the path of Dele Alli who brought it down and had the vision to see Moura running past him, beyond his right shoulder, and laid a clever pass into his path through a defender's legs to steer a low shot through the legs of another defender to beat goalkeeper Andre Onana. A goal and a double nutmeg.
Miracles do happen. And they happen on consecutive nights in this Champions League, it appears, which is undeniably the most extraordinary football competition in world football; incomparable for its drama, quality and ability to defy the odds. Let no man tinker with it. After the Miracle of Merseyside, here was the Amazement in Amsterdam.
Spurs were 1-0 down at kick-off and 2-0 soon after and 3-0 not long after that, and that, it appeared, was that. They had been out-run, out-manoeuvred and out-powered and it was summed up by Ajax's goals. For the first, De Ligt simply left his marker, the far smaller Kieran Trippier, to attack a corner and thump a header in front of Alli and past Hugo Lloris. For the second, Ajax carved down the Spurs right with Dusan Tadic cutting the ball back to Hakim Ziyech who had pulled away to create space and whip a thunderous shot across Lloris and into the net.
In between, Heung-min Son had struck a post and opportunities were missed by him and by Christian Eriksen and Spurs appeared dispirited. Goals had been tough to come of late, and they did not have Kane, but they were creating chances and surely Pochettino had hammered that home at half-time.
Despite Ajax's dominance it felt like a Spurs goal might just change things and so that theory was tested, with the nature of the strike also helping, as Danny Rose skilfully surged ahead to find Moura who pushed it forward to Alli. Suddenly Moura had the chance to use his speed and he sprinted, bursting through between the Ajax defenders to side-foot past Onana.
And then there was more, much more, and more from Moura who superbly scored again. It came after Onana had somehow, one-handed kept out Llorente's point-blank shot. Just as it seemed the chance had gone, Moura capitalised on a mix-up involving the goalkeeper and his defenders, showed tenacity and skill to hold off challenges and swivel before shooting into the corner.
Just 204 seconds separated the goals and Spurs only needed one more. They would also need luck – and plenty of it. Ajax tried to kill the tie off and should have done so but were wasteful, with Ziyech shooting narrowly wide and then striking the post, and Lloris fortunate when he beat the ball out from De Ligt only for it to spin narrowly past Nicolas Tagliafico.
The tension was becoming unbearable but when masked-man Jan Vertonghen's header struck the cross-bar, with his follow-up cleared off the line, it appeared Spurs' hope was gone. Not that they saw it that way. Every little thing is going to be all right, as the song says.
Source: Cyprusdaily