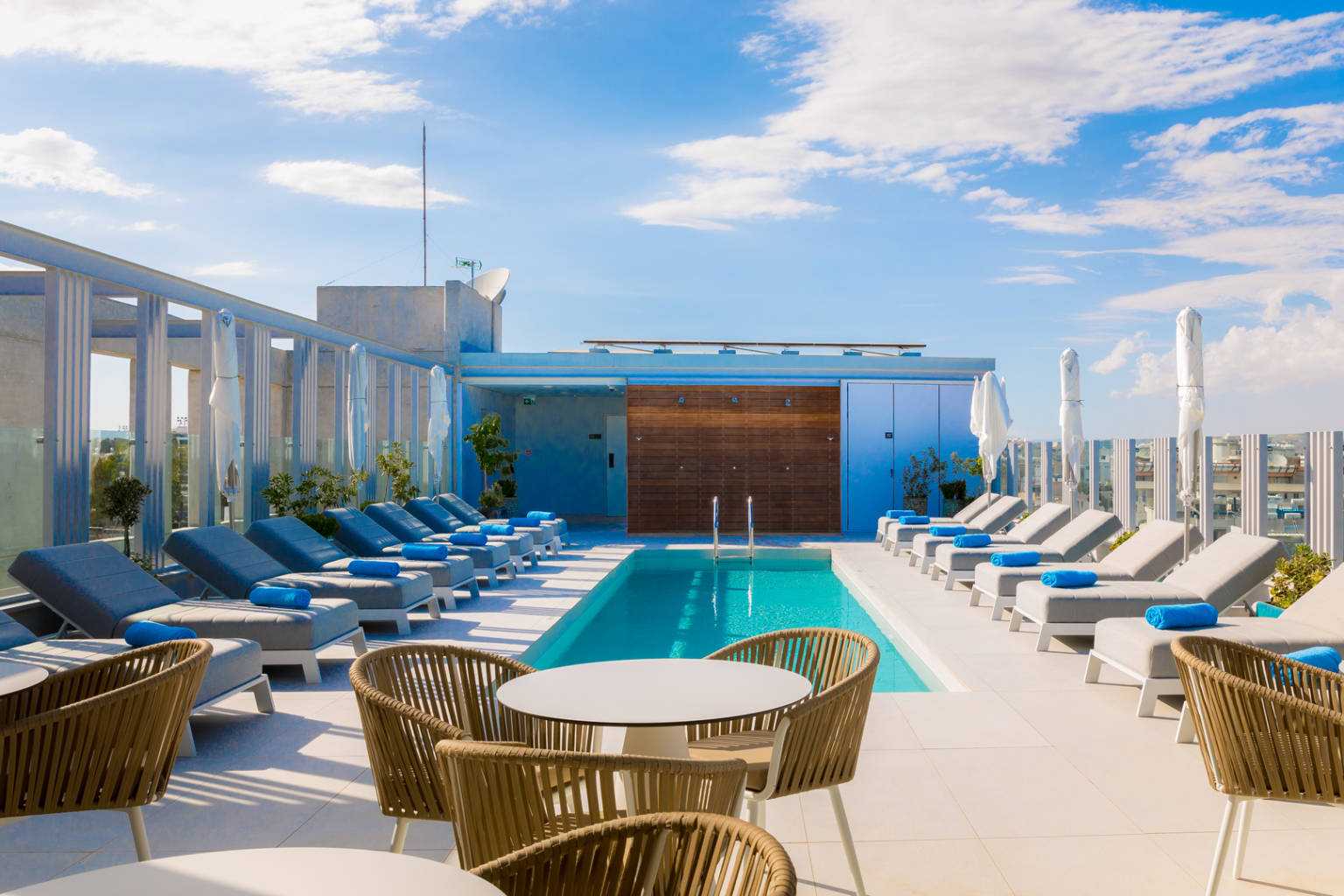 Opening of Hotel Indigo® Larnaca marks IHG® Hotels & Resorts second hotel in Cyprus
IHG® Hotels & Resorts opens the first and only branded boutique hotel in Cyprus – Hotel Indigo® Larnaca. Each of the hotel's 40 bedrooms are all uniquely designed and inspired by Cyprus's craft heritage with balconies overlooking the picturesque city of Larnaca. Just a five-minute drive from the airport, the hotel is centrally located in one of Larnaca's most historic areas, near the church of St. Lazarus and close to Finikoudes and Mackenzie beaches.
Within walking distance to the beach, the hotel combined two traditional Cypriot beach homes into a new hotel, marrying design elements from both old and new. The bedrooms have a modern yet contemporary feel by merging raw concrete with locally made, brightly coloured traditional textiles and light wooden furnishings. The en-suite bathrooms have spa-like rain showers, with brushed concrete flooring and original Cypriot tiling. All the balconies are fitted with traditional Mediterranean yellow shutters, reminiscent of old Cyprus, and mimicking the sunset amongst the surrounding mountains.
Hotel Indigo Larnaca also offers a stunning rooftop pool and Kampana Pool Bar with breathtaking views of the sea. The regionally inspired onsite restaurant, Avli, and the Oinotelia wine bar, are conveniently situated on the ground floor and are a destination for locals, tourists, and guests.
Mr. Savvas Kakos, President and CEO of Quality Group, said: "At Quality Group we are extremely happy and proud to welcome one of the most renowned hotel groups to the city of Larnaca. Unique and intriguing by definition, and one of the world's largest boutique brands,
Hotel Indigo® is now part of the wider area of Saint Lazarus and a perfect addition to the heart of the city. On behalf of Quality Group, I convey my strong faith and certainty that this brand-new and organic collaboration with IHG® and Hotel Indigo® will leave its mark on the hotel industry in Cyprus."
Inspired by the neighbourhood around each property, just as no places are alike, no two Hotel Indigo properties are the same. Each Hotel Indigo property features thoughtful design touches and vibrant restaurants and bars connected to the spirit of the local neighbourhood. Hotel Indigo Larnaca takes in the rich history of the Agios Lazaros area and is ideal for romantic getaways and caters to the most seasoned traveller.
There are currently 119 Hotel Indigo properties open globally including the recently opened Hotel Indigo® Verona – Grand Hotel Des Arts, with another 104 in the pipeline to open in the next 3-5 years,
For further information or bookings, please visit ihg.com/hotelindigo
*Numbers as at 30 May 2020
Double rooms start from €105.
About Hotel Indigo®: Just as no places are alike, no two Hotel Indigo properties are alike. Each Hotel Indigo draws inspiration from the local neighbourhood, culture and popular trends in food, drink and design to create a warm and vibrant atmosphere. Our hotels provide a gateway to discover and explore some of the world's most inspiring cities and neighbourhoods. For more information, visit www.hotelindigo.com, and connect with us on Facebook www.facebook.com/Hotel.Indigo, Twitter www.twitter.com/hotelindigo, and Instagram www.instagram.com/hotelindigo.
About IHG:
IHG® (InterContinental Hotels Group) [LON:IHG, NYSE:IHG (ADRs)] is a global organisation with a broad portfolio of hotel brands, including Six Senses Hotels Resorts Spas, Regent Hotels & Resorts, InterContinental® Hotels & Resorts, Kimpton® Hotels & Restaurants, Hotel Indigo®, EVEN® Hotels, HUALUXE® Hotels and Resorts, Crowne Plaza® Hotels & Resorts, voco™, Holiday Inn® Hotels & Resorts , Holiday Inn Express®, Holiday Inn Club Vacations®, avid™ hotels, Staybridge Suites®, Atwell Suites™, and Candlewood Suites®.
IHG franchises, leases, manages or owns approximately 5,900 hotels and nearly 882,000 guest rooms in more than 100 countries, with almost 2,000 hotels in its development pipeline. IHG also manages IHG® Rewards Club, our global loyalty programme, which has more than 100 million enrolled members.
InterContinental Hotels Group PLC is the Group's holding company and is incorporated in Great Britain and registered in England and Wales. More than 400,000 people work across IHG's hotels and corporate offices globally.
Visit www.ihg.com for hotel information and reservations and www.ihgrewardsclub.com for more on IHG Rewards Club. For our latest news, visit: https://www.ihgplc.com/en/news-and-media and follow us on social media at: https://twitter.com/ihgcorporate, www.facebook.com/ihgcorporate and www.linkedin.com/company/intercontinental-hotels-group.