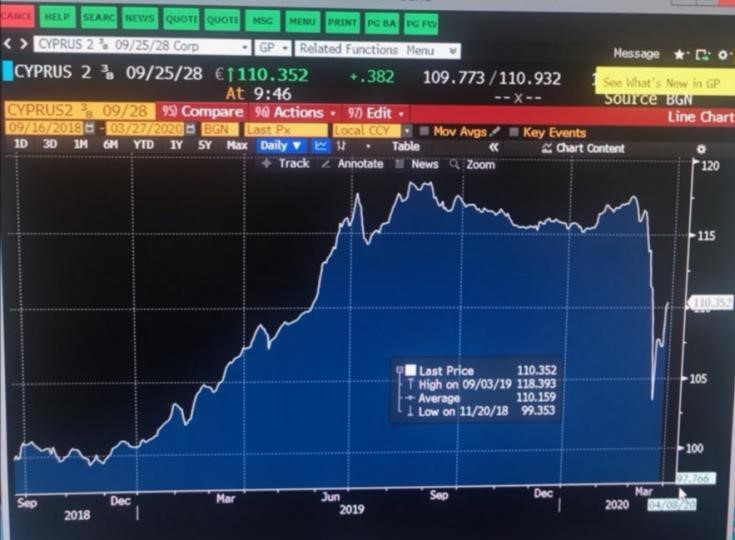 Cypriot bond yields in secondary markets returned on a downward path, following the recent market volatility due to investor fears as a result of the coronavirus pandemic.
 
The decline is mainly attributed to the ECB's decision to remove issuer limits from its bond-buying programmes as well as the start of purchases in the context of the Pandemic Emergency Purchases Programme (PEPP) amounting to €750 billion.
 
The PEPP's will enable the Central Bank of Cyprus to engage in increased purchases of Cypriot bonds from the secondary markets, pushing Cyprus' borrowing costs lower.
 
According to data obtained by CNA, the Cypriot benchmark's yields is following a downward trajectory and dropped earlier today at 1.097% from the high point of 1.932% last Wednesday marking a reduction of almost 90 percentage points. The previous high was recorded in November 20 2018 reaching 2.449%.
 
The coronavirus pandemic has had a severe impact the yields of bonds of the EU's periphery such as Italy and Greece which also returned on a downward spiral following the ECB's announcements. Although Greek bonds are still classified as junk the ECB decided to include them in its PEPP, while Italy's bond yields benefited from the ECB's decision to waiver all issuer limits from its bond purchasing programmes.
 
According to latest data by the ECB, net monthly purchases of Cypriot bonds by March 20 amounted to €41 billion with total Cypriot bonds purchased by the ECB amounting to €2.09 billion.
Source: CNA