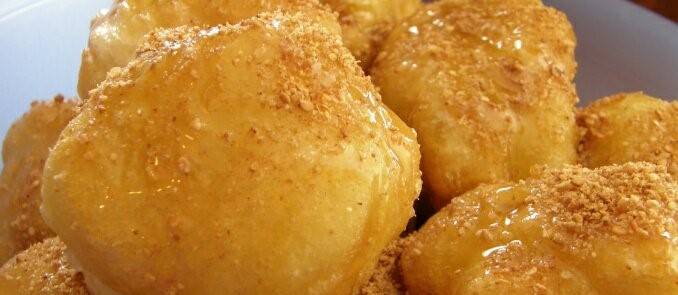 Cypriot Loukoumades (Kserotiana) in Cyprus is traditionally made on the eve of Theophania.
Ingredients
500 g water
550 g flour
30 g Fresh yeast
salt
oil (for frying)
250 g honey
cinnamon and nuts (for the garnish)
Method
Pour the water, yeast and a tablespoon of honey in the mixers bowl and set it for 3 minutes, at 37 celsius degrees,  at speed 1.
Add the flour and salt in the bowl and set the mixer at 1 minute, speed 4, until the mixture becomes homogeneous.
Pour the mixture into a pot, cover it with a plastic wrap and allow it to rise  in a dry and warm place until it triple's its size. (Note: The loukoumades mixture must be in porridge format – falling off the spoon but not running).
Before proceeding with the frying, prepare a glass of water and a teaspoon.
When the mixture is ready, lightly mix it and then fry in a hot oil.  Scoop up a little dough at a time with the teaspoon  and damp it into the hot oil.
When you finish with the frying you may sprinkle the honey and continue with the cinnamon and nuts.