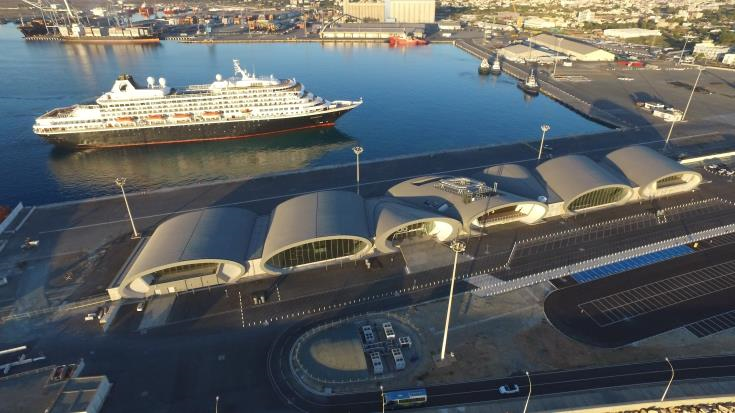 yprus` Shipping Deputy Minister Natasa Pilides said on Monday that a goal to establish a ferry connection between Cyprus and Greece is going ahead as on Friday following consultations which started a year ago, the EU Competition DG approved a maximum state subsidy of €6 million per year.
Addressing a press conference at the Presidential Palace, Pilides, who is taking over this week as Minister of Energy, Commerce and Industry from Yiorgos Lakkotrypis, said a public tender will be launched soon.
The goal, she said, is for the ferry connection to start in 2021.
The maximum cost of a ticket will be €50 for a single ticket, €80 for a return ticket, €80 per person in a cabin for one-way tickets and €120 per person in a cabin for return tickets. Children under 2 years of age will travel for free, while children under 12 years of age will pay a reduced price for their ticket. Vehicles of up to 5 metres will have to pay €75 for one-way and €150 for return tickets. Motorbikes will cost €50 for a single ticket and €100 for a return ticket. Port fees which will not be included in the ticket price may indicatively range between €20 and €30.
The much longed for ferry connection between Cyprus and Greece "has had a positive outcome," Pilides said, adding that the DG Competition has decided that the operation of the route is considered to be a service of general economic interest and can be funded by state funds.
"We are happy about this development. We have taken an important step towards implementing this project, since the European Commission's approval is key and constitutes a condition for further actions," she noted.
However, she added, there is still some way to go as the next step will be to have an open competition.
Pilides said that apart from the amount of €6 million annually which will be given as a state subsidy, the duration of the contract will be for three years with the possibility of renewal for another three. The government together with the successful bidder will agree when the route will start operating.
She added that ferries will depart from Limassol or Larnaca in Cyprus and Piraeus in Greece with the possibility of a stop in a Greek island port on the way to Piraeus.
The ferry route will operate once per week in the summer months, from May to September and once every two weeks from October to April. The frequency of the route will be reviewed on the basis of the demand, she noted.
The ferry should have a capacity for at least 200 passengers and cabins for at least 140 people and it should not take over 16 hours to make the trip.
Pilides also spoke of the work the Deputy Ministry has done so far, pointing out that Cyprus shipping has been actively promoted and many steps forward have been taken. Pilides is the first Shipping Deputy Minister, since March 2018, she is being succeeded by Vassilis Demetriades, who is the national expert on maritime policy issues at the European Commission's Directorate-General for Mobility and Transport.
She referred to the rebranding of Cyprus shipping that was completed noting that "Cyprus has a very strong image in shipping and this has been very helpful in meetings we had with companies across the world." The Deputy Ministry has had meeting with over 300 companies in the last 2.5 years during many missions abroad, she added.
Speaking of the country`s competitiveness in shipping she said that the outcomes have been positive and referred in particular to the extension of the Tonnage Tax System until 2030.
Source: CNA