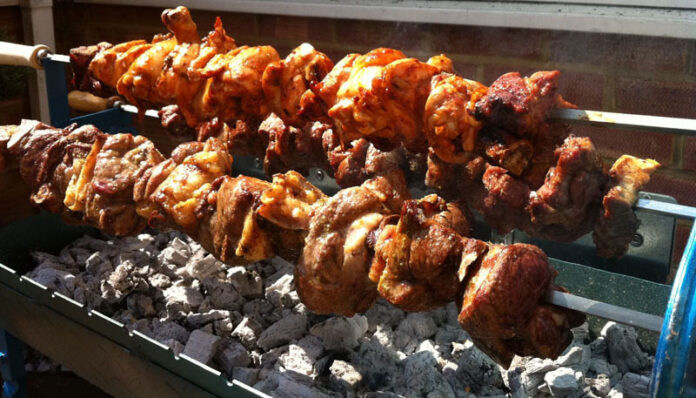 When it comes to traditional Cypriot cuisine, Souvla is a dish that cannot be missed. This delicious and flavorful dish has been a staple of Cyprus for centuries, and for good reason. Souvla is a type of barbecue meat that is prepared on a spit over an open flame, resulting in juicy and tender meat that is bursting with flavor.
Souvla is typically made with lamb, but can also be made with pork or chicken. The meat is marinated in a combination of olive oil, lemon juice, garlic, and a variety of herbs and spices, giving it a unique and delicious flavor. It is then skewered onto a large spit and roasted over a charcoal fire, slowly turning until it is cooked to perfection.
The process of cooking Souvla is not just about the end result, but also about the experience of the preparation. It is a social and communal activity that is often enjoyed with family and friends, especially on special occasions such as weddings and religious celebrations. The meat is usually accompanied by a variety of meze dishes, including salads, dips, and bread, making it a hearty and satisfying meal.
One of the best things about Souvla is its versatility. It can be served as a main dish, or used as an ingredient in other dishes such as pita wraps, soups, and stews. It can also be enjoyed in a variety of settings, from a casual backyard barbecue to a more formal restaurant setting.
If you're visiting Cyprus and want to experience the best Souvla, there are many restaurants and taverns that specialize in this dish. One of the most famous is the Souvlaki Tou Faka restaurant in Nicosia, which has been serving up delicious Souvla for over 40 years. Another popular spot is the Koutourou Ouzeri restaurant in Limassol, which offers a wide variety of meze dishes in addition to their delicious Souvla.
In conclusion, Souvla is an amazing dish that showcases the unique and flavorful cuisine of Cyprus. Whether you're a meat lover or just looking for a new culinary experience, Souvla is a must-try dish that is sure to delight your taste buds. So, make sure to add Souvla to your list of must-try dishes when visiting Cyprus, and experience the delicious flavors and traditions of this amazing country.