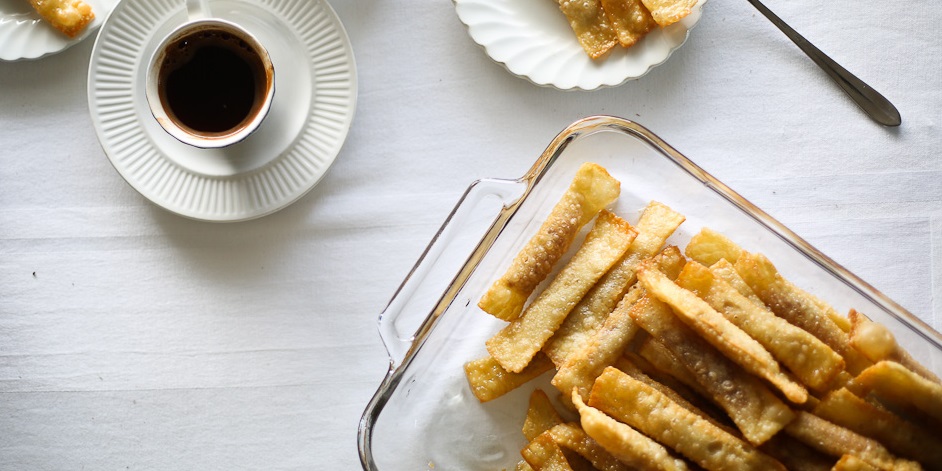 Ingredients
Dough: (you will have extra dough at the end)
2 cups flour (1 cup bread flour, 1 cup all purpose flour)
pinch of salt
2 tbs vegetable butter
1 beaten egg
about 1/3 cup of warm water (you may need less or more)
Filling: (make extra filling if you want to use it as garnish)
1 & 1/4 cups ground almonds
3 tbsp sugar
3/4 tsp cinnamon
Syrup:
2 cups sugar
1 cup water
1 peels of orange rind
1/2 a cinnamon stick
5-6 cloves
3 tbs honey (after it boils you add honey)
Recipe
1. Put the flour in a bowl and add the salt. Add in the shortening, rubbing it between your fingers with the flour to combine it together. Make a well in the middle of your flour, and add your beaten egg.  Begin to add your warm water in order to make a stiff dough. Knead the dough well for 10 minutes. Let the dough rest in a warm place for 1 hour.
2. While the dough is resting, make your filling. Combine the coarsely chopped almonds, cinnamon and sugar.
3. While the dough is resting, prepare the syrup. Slowly heat and stir the sugar, water, orange rind, cinnamon stick and cloves. Once it reaches a low boil, turn of the heat and let slightly cool. Then add the honey and stir the syrup. Then let the syrup cool before using.
4. Once the dough has rested, roll the dough out so that it is very thin. Place 1/2 tsp of filling in a little rectangle piece of dough about 5cm by 8cm. Fold over the dough lengthways to cover the filling. Secure the edges using your fork, as in the picture above. Make all of the ladies fingers this way.
5.  On the stove, heat vegetable oil for frying. Once hot, add the ladies fingers a few at a time. They will fry very quickly, and sort of "bubble". Once they turn golden brown, remove with a slotted spoon, and then quickly dip into the cool syrup. Then transfer into a serving tray and allow to cool.  Once cool, sprinkle some of the filling mixture on top of the ladies fingers as garnish and serve.
Level of Difficulty: 4/5
Preparation Time: 2 hours
Cooking Time: 1-2 minutes per "finger'
Quantity: Approximately 70 "fingers"