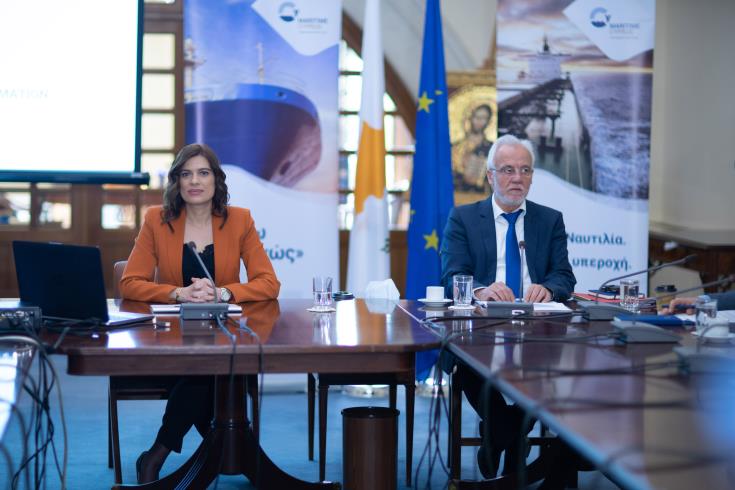 Cyprus Deputy Shipping Minister, Natasa Pilides, said on Wednesday that she expected a ferry connection between Cyprus and Greece to be approved by the Directorate-General for Competition of the European Commission by the end of March. She added that soon after the EU approval the Ministry would be ready to proceed with an open tender.

Speaking during a press conference where the annual report for 2019 of the Deputy Ministry of Shipping was presented, Pilides said that she had contacts with EU officials two weeks ago, who as she said, "understand, that the issue of the Cyprus-Greece ferry connection is a high priority for us".
In addition, Pilides said that there's interest for the ferry connection from several companies from Cyprus, Greece, Germany and Spain.

Concerning the impact on shipping industry from the spread of the coronavirus, the Deputy Minister said that there will certainly be impacts on international trade and consequently on shipping. Regarding Cyprus`s actions on the issue, Pilides said that the country has issued a circular advising companies on the safe approach of ports in high risk areas, to safeguard the health of seafarers, crews and passengers.

Asked on the role of her Ministry on immigration, she referred on the operation of a 24-hour monitoring center and said that there are inspectors from the Deputy Ministry who carry out the monitoring locally, while there's also monitoring on international level through collaborations and  international systems.

Cyprus shipping registry  

————————–
On the development of Cyprus' shipping registry, Pilides stressed that the efforts aim to ensure competitiveness, upgrade services, help the transition to the digital age, promote Blue Growth as well as improving safety levels and protecting the environment.

Regarding the attraction of companies, the Deputy Minister of Shipping said that about 120 companies are under Cyprus tax system and noted that the companies that own ships show a "steady and significant increase" with over 120 shipowners operating in Cyprus, while around 50 companies are shipmanagers, thus Cyprus ranks first in the EU in terms of  this activity.

She also pointed out that Cyprus has the ability to attract companies from many parts of the world and not just the country's traditional markets.

 The Deputy Minister underlined the importance of the fact that the companies located in Cyprus are truly established, increasing their know-how and staff and underlined that Cyprus should increase training in maritime jobs.

She also referred to measures to improve the competitiveness of the Cyprus shipping registry by revising its pricing policy and simplifying ship registration procedures.

At the same time, she said that strengthening co-operation with other states is a key priority of the Deputy Ministry, aiming to strengthen Cyprus`s role in the European and international decision-making process.


The Deputy Minister also underlined the re-election of Cyprus to the International Maritime Organization (IMO) Council for the years 2020-2021, with 140 votes.
Source: CNA