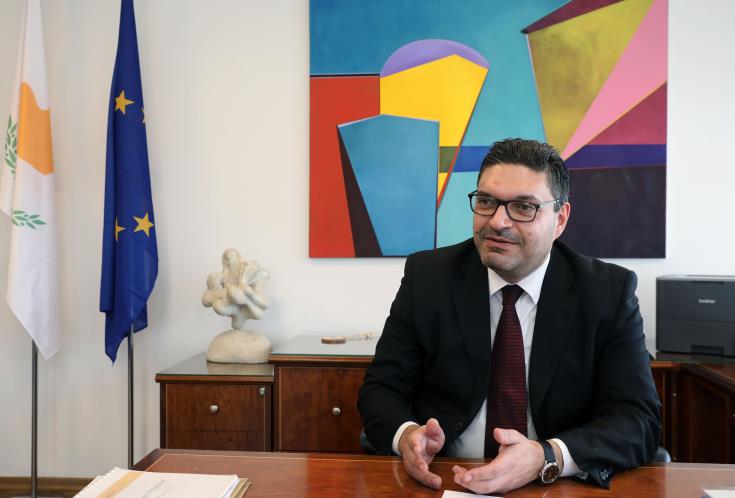 The gradual relaxation of containment measures aims to kickstart economic recovery in the fourth quarter of 2020 followed by a peak in GDP growth in 2021, Finance Minister Constantinos Petrides said on Friday, noting the second phase is considered more dangerous and people should be alert to avoid backward steps.
 
Finance Minister, along with Ministers of Health and Labour analysed the road map for the gradual lifting of lockdown measures taken by the authorities to curb the spread of coronavirus outbreak.
 
"Our aim is to proceed with recovery because without the economy (recovering) there will be no public Health system, there will be no income," Petrides said during a press conference and added "if there is compliance in this second, more dangerous phase that needs increased discipline we perhaps need to be more alert, then the economy will may to recover in the fourth quarter and will peak in 2021."
 
He said the road map containing four stages, is based on a comprehensive strategy made after consultations with the social partners and increased evaluation of the epidemiological data and various economic indicators, while the gradual lifting of containment measures in various sectors was made after evaluating certain indicators such as GDP contribution, employment, contribution to state revenue, infection risks as well as capacity to work from home.
 
Petrides also referred the sectors among the first to reopen in the first phase of relaxation of containment measures.
 
According to Petrides, the sector of retail trade is very important with a contribution in added value terms of over €1 billion, employment of 38,000 persons or 9.4% of jobs in Cyprus with a contribution of 12% in state revenue.
 
Noting that the sector will have a gradual operation, Petrides added that this retail trade is very important to the economy.
 
On constructions, Petrides said the sector's contribution in value added terms is 5% with employment of 30,000 persons corresponding to 7.5% of total employment in Cyprus and a contribution of over 16% in state revenue.
 
However, the FinMin called for prudence and adherence on the personal hygiene and safety measures to avoid taking steps backwards, as Cyprus would enter in "uncharted waters" in case of a second phase of containment measures.
 
Noting that since the coronavirus outbreak the Ministry backed strict measures under the condition of a two-month lockdown, Petrides added "If we do no succeed in the second stage (the gradual relaxation of measures) then we enter again to uncharted waters for which no forecasts can be made."
 
Responding to a question whether the Ministry is considering wage cuts in the public sector, Petrides said the government efforts aim to boost and not to reduce income, noting that "we should not be financially myopic but we should see the next day as well"
 
"We should not spend our firepower at once and run out of fuel precisely to avoid memorandum terms, either our own memorandum or memorandums from abroad and to be force to slash spending, to reduce income and increase taxes and that is why my call is for prudent financial management on the basis of a comprehensive financial planning," he said.
 
On a question regarding the government guarantee scheme, Petrides said he will table a revised bill to the Council of Ministers, reflecting the consultation with political parties, as the bill requires parliamentary approval.
 
"And I hope next week (the bill) will secure a parliamentary majority," he said, noting that government guarantees are a tool included in the coronavirus response package, including fiscal measures, monetary measures and financial measures that complement each other.
 
"I hope next week when I submit the new proposal to achieve the necessary consensus so we will be able to use all our combined fire power in this financial war. We do not have the luxury not to use all our weapons," he concluded.
Source: CNA