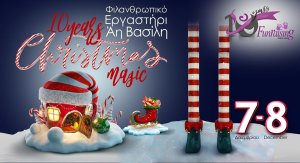 We would like to invite you to support our cause and give to children the happiness they deserve through Christmas magic. FUNRAISING Charity is organizing for the 10th year the 'Santa's workshop' on the 7th and 8th December 2019 at TRAKASOL Cultural Centre, in Limassol Marina.
It is important to refer to last year's workshop that more than 5000 visitors came. Our aim is to increase the visitors as well as the children who take part in the workshop. Hundreds of young and adult volunteers are waiting to offer their help during this event.
Our organization supports families in a variety of ways according to their needs.
Taking into account our target to support as many children with social and financial problems as possible, with the current letter we would like to invite you to celebrate with us and offer your financial support for Santa's Workshop. In this way we will be able to offer happiness to children through the magic of Christmas for the tenth year by supporting our cause.