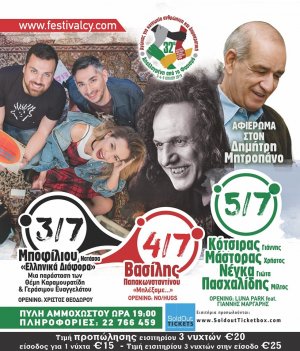 The 32nd Festival of EDON which will take place at the Famagusta Gate Moat in Nicosia this July is one of the greatest cultural events of this summer.
The 3 day festival includes 3 major concerts, one for each day:
July 3: Natassa Bofiliou
July 4: Vasilis Papakonstantinou
July 5: Tribute to Dimitris Mitropanos with Yiannis Kotsiras, Miltos Paschalides, Giota Nega, Babis Stokas and Christos Mastoras.
The festival also includes performances by Cypriot bands, a tavern with Greek and Cypriot music, dances and good food, Binominal events with the participation of Turkish Cypriot youth organizations, playground for children, book exhibition, bazaar and a lot more activities.
Presale price of €20 for all 3 nights, while for one night the price is €15. From the entrance the ticket for all 3 nights will be sold at the price of €25.