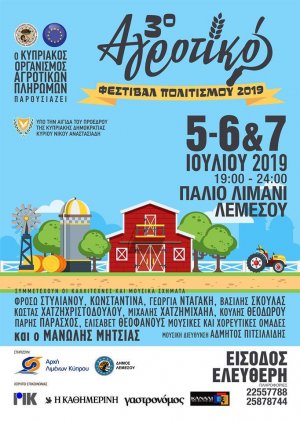 The Cyprus Agricultural Payments Organisation will organise the 3rd Agricultural Festival on July 5, 6, 7 2019 at Limassol's Old Port.
The aim of this event is to inform the applicants through cultural events of the role of CAPO, the participation of local companies as well as the promotion of various Cypriot dishes of the Cypriot culture.
Through this festival, locals and tourists will get acquainted with Cypriot culture and will be informed about the European and national programs that CAPO subsidizes. In addition, informative lectures / speeches will be held on the Agency's measures. During the festival will be honored people who in any way contributed to the cultural heritage of our country.
In the festival, companies will have the opportunity to participate, in exhibitions related to the production and marketing of agricultural products, wineries, dairies, sweetshops, and other exhibitors related to the agricultural profession. The venue will be formed with small stands that will be rented and exhibitors will be able to advertise and / or sell the various products they will exhibit at the festival.
At the same time the three-day festival will present a rich cultural artistic program. For more details please visit CAPO's Facebook page.
The festival will be under the auspices of the President of the Republic of Cyprus.