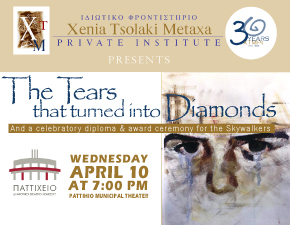 Xenia Tsolaki Metaxa private Institute presents "The Tears that turned into Diamonds" and a celebratory diploma & award ceremony for the Skywalkers.
A dramatization of the book "The Tears that turned into Diamonds", a fairy tale version of real-life events, written by Xenia Tsolaki Metaxa.
The XTMPI public speakers share real stories of ACCEPTANCE and PERSEVERANCE.
They talk about the secret of turning PAIN into SUCCESS and HAPPINESS.
They teach us that by accepting our pain and by focusing on GIVING, we can enter a MAGIC CIRCLE of "turning our own tears into diamonds".
All proceeds from the show and award ceremony will be donated to a 30-year old father, who suffers from acute leukemia and is in urgent need of transplant.