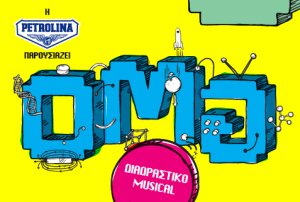 A whole new experience! Interactive, counter and innovative. The "OMG! An opposite musical" produced by WeAreMusic and presented by Petrolina.
This is the new production of the artistic team, which returns with a new project aimed to impress young and old viewers. The plot deals with rapidly changing friendships, especially in puberty. What would happen if someone had the power to change things and situations? What do you do when deciding to change together and going out with the popular kids in school and an invention that changes things to their opposite situation? If the cafeteria can be turned into a five star restaurant and the basketball coaching can turn into a fast food party, it can surely change your friend back to the character she used to have… right? The musical deals with issues such as friendship, acceptance, and how one can discover himself.
One of the most impressive features of the show is the collaboration with the US company CUE Live to deliver an exceptional show at the level of Audience Engagement. A fact that gives the audience the opportunity to participate by downloading an app to their mobile phones, and with the use of ultrasound, the viewer's devices will be activated to be able to participate in specific parts of the show. They will also be invited to vote, defining the continuity of the show.
Team behind "OMG – an opposite musical":
Directed by: Mikella Theodoulidou
Assistant Director: Christina Paschalidou
Text: Andreas Anastasiou
Text editing: Mikelella Theodoulidou
Music, Orchestrations: Andreas Anastasiou
Lyrics: Andreas Anastasiou, Christina Paschalidou
Vocal Coach: Loukia Lazarou
Choreographer: Andria Christou
Production Organization: Diamanto Anastasios
Lighting Design: Caroline Spyros
Sound: Marios Georgiou
Poster Design / Graphics: Marios Kouroufexis
3D visuals: Giorgos Georgiou
Promotion and PR: Dimitra Georgiou
Production Direction: Andreas Anastasiou
Produced by WeAreMusic Publishing and Management, Larnaca 2019
The show will premiere on May 2nd at 20:00 at the UCLan Cyprus Amphitheater. Performances will take place on May 3rd at 20:00, May 4th at 18:00 and Sunday 5th May at 11:00 at the UCLan Cyprus Amphitheater.