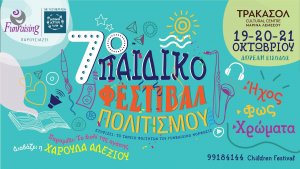 The 7th Children's Cultural Festival invites all kids to a special fair of culture, knowledge and entertainment. This year's edition, titled "Sound, Light, Colours" will take place from the 19th – 21st of October 2018 at Limassol Marina's ΤΡΑΚΑΣΟΛ Cultural Centre.
Enhancing creativity and imagination, this three-day event offers a rare opportunity to children to take part in inspiring activities and educational workshops. On Friday and Saturday at 19:00, visitors will also have the chance to attend a storytelling event hosted by renowned Greek singer Charoula Alexiou, who will be narrating "The Violin of Love", a tale written by Cypriot author Nicolina Drakou.
The event is organised by Funraising Charity Foundation supporting children from economic and socially disadvantaged families. For more information, please call 99184144.
Opening Hours:
Friday: 19:00 – 21:00
Saturday: 11:00 – 21:00
Sunday: 11:00 – 19:00