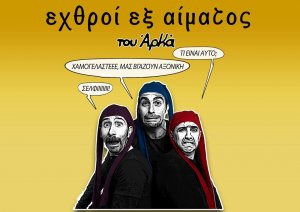 Hilarious dialogue, fascinating plot and an imaginative humor, make up the content of this theatrical performance by Arkas.
The story takes place in the body of an injured person in coma while his vital organs are trying to agree on a standard line for the actions needed to save themselves.
Arkas is the pen name of a famous however reclusive Greek comics artist. Arkas has seldom appeared at artists' conventions and generally avoids publicity and appearances on tv shows or interviews. he's quoted as believing that the creator should be known through his work, not through personal promotion. His real name is also unknown.
A Still Theatre group producation.
Time: Starts at 20:30