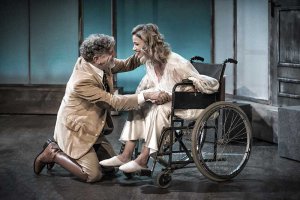 In New York in 1938, Sylvia Gellburg suddenly becomes partially paralyzed from the waist down, after reading about the Kristallnacht (the Night of Broken Glass) events in Nazi Germany in the newspaper. Could the reason of her paralysis be her relationship with her husband Philip? Her doctor, Harry Hyman, believes Sylvia's paralysis is psychosomatic and begins treatment, going deep into the family secrets in order to cure her. His findings could be of help to us all.
Aspa Kalliani directs Arthur Miller's masterpiece.
Credits:
Director: Aspa Kalliani
Cast: Yiannis Vouros, Panayiota Vlandi, Charis Sozos, Vaso Yulielmaki, Elina Malama
Set: Manolis Pandelidakis
Costumes: Deni Vachlioti
Kypria International Festival 2019
Tickets: www.tickethour.com.cy & ACS Couriers.