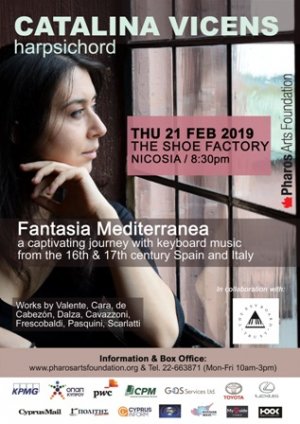 Award-winning Chilean harpsichordist, Catalina Vicens, will appear for the first time in Cyprus to present fantasia Mediterranea – a captivating journey with music from the 16th and 17th century Spain and Italy. Praised for her lyricism, virtuosity and brilliant style of playing, Vicens combines a vibrant international soloist and research career.
She has performed at the most important concert halls and early music festivals of Europe and the Americas, and she is often being invited to give recitals in some of the main collections of original historical keyboard instruments in the world.
For her concert in Cyprus, which is organised by the pharos Arts Foundation with the support of The Keyboard charitable trust in London, Catalina Vicens can perform works by composers as well as Antonio Valente, Marchetto Cara, Antonio de Cabezón, Joan Ambrosio Dalza, Marc'Antonio Cavazzoni, Girolamo Frescobaldi, Bernardo Pasquini, Domenico Scarlatti – a perfect repertoire for the pharos Arts Foundation's Graziano Bandini harpsichord, which is an integral-construction instrument in the style of Onofrio Guarracino who worked in Naples in the second half of the 17th century.