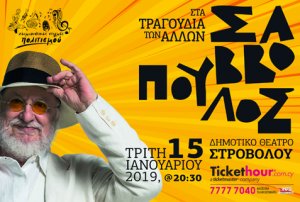 The prominent Greek composer, writer and singer Dionysis Savvopoulos returns to Cyprus, this time to perform songs by different composers like Atik, Vamvakaris, Hatzidakis, Zambetas, Xarhakos, Theodorakis, Tsitsanis, Thanasis Papakonstantinou and Fivos Delivorias.
This is the first time that Dionysis Savvopoulos presents a program that's not based on his own songs, but mainly on the songs by others.
With the participation of diastasis Vocal Ensemble.