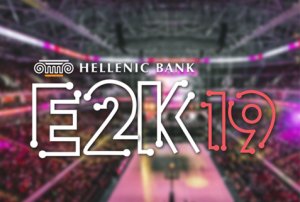 Hellenic Bank in cooperation with Antenna present the E2K19, the biggest ESPORTS event that has ever taken place in Cyprus, on Saturday 30 November and Sunday 1 December. It is a two-day competition for video game lovers. With three arenas, four games and prizes over €8,000 the Royal Hall in Nicosia which hosts the event is expected to be full. PC Arena: The biggest tournament in the arena sponsored by INSPOT will be League of Legends, which will have a €5.000 prize. The finals will be shown on ANT1 TV channel on Sunday 1 December. There will also be a PUBG tournament in the same arena. PS4 Arena: Sponsored by Public, the biggest tournament of FIFA 20 that has ever taken place in Cyprus will be held in the PlayStation 4 arena, with 150 players and awards over €1000. Virtual Arena: For the first time in an eSports event in Cyprus a virtual arena is introduced, where gamers and E2K19 guests will be able to compete in the continues Battle Royal games that will take place through the Call of Duty: Mobile, which is available on all mobile devices. Prizes will exceed €1,000. With this event, ANT1 is approaching an industry, which is attracting revenues close to €1b, while at the same time, the total number of gaming fans exceed the fans of huge events like NBA!
Games:
League of Legends – €50 team of 5 – Terms & Conditions for League Of Legends e2kcy.com/league-of-legends-e2k-rules/
FIFA – €10 single – Terms & Conditions for FIFA e2kcy.com/fifa20rules/
PUBG – €10 single – Terms & Conditions for PUBG e2kcy.com/pubg-e2k-rules/
Important Notice: All gamers must be 16+. ID will be required for the registration. Gamers who don't qualify the age requirement will not be allowed to compete and no ticket fee will be refunded.
Visitor Tickets:
One Day Pass – €5
Two Day Pass – €8
All visitors will have the right to play in the Virtual Arena, Call of Duty: Mobile played.
Tickets: www.tickethour.com.cy