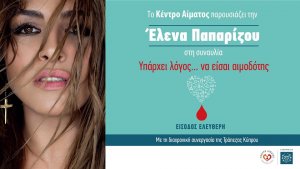 There is a reason … to be a blood donor! The Cyprus Blood Establishment presents the popular Greek singer Elena Paparizou in an exclusive concert dedicated to voluntary blood donation!
Come to enjoy the rhythms of love.
With the cooperation of the Bank of Cyprus.
Monday, August 26, 20:30, Famagusta Gate Moat.
Free entrance