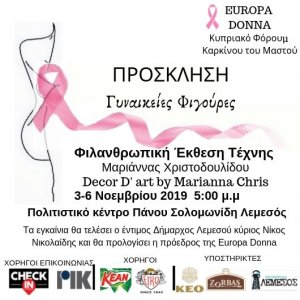 A charity exhibition of painting and 3D female figures by painter Marianna Christodoulidou (Decor D 'art by Marianna Chris) from November 3 to November 6, 2019 under the auspices of "Europa Donna" at the Panos Solomonidis Cultural Center in Limassol.
Europa Donna President and Limassol Mayor Nikos Nikolaidis will be inaugurated.
Part of the proceeds will go towards providing specialized care and support to breast cancer patients.
For more information you can send a message at: www.facebook.com/Decordartshop