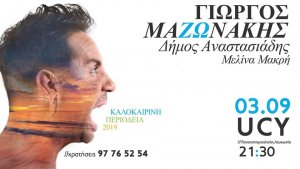 Protoporia Student Association invites you to a unique Welcome Party with the most subversive Greek artist – Giorgos Mazonakis.
Tuesday 03 September 2019 – 21:30 – UCY Campus, Nicosia
Greece's most explosive artist will give us an unforgettable live show with all his greatest hits.
Mazonakis will be accompanied by Dimos Anastasiades and Melina Makri.
▪️ Presale: 15€ with a drink
▪️ Entrance: 20€ with a drink
▪️ Presale VIP: 35€
Ticket locations:
• GLORIA JEANS in all cities
• BARISTRO ALL DAY BAR, Aglantzia
Info & Reservations:
Lucia 97 76 52 54