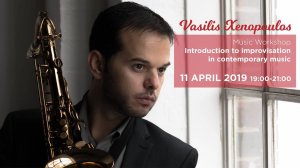 Windcraft Loud, in collaboration with A. Vafea Jazz projects, presents a seminar on "Improvisation in contemporary music" with renowned saxophonist and composer Vasilis Xenopoulos.
The seminar is split in 2 parts – theory and praxis. the first part will attempt to approach improvisation through the historical development of different styles of jazz – from ragtime to blues and swing, up to modern bebop and fusion. there will be a presentation and analysis of the foremost common scales that are in use in contemporary music, like major/minor pentatonics, blues scales and jazz modes, with an association (through the degrees of scale) to the traditional scales of western music.
The second a part of the seminar will be practical, with the participants applying theory on their instruments. Improvisation in different styles of modern music, such as jazz, funk and latin, are going to be explored and applied.
The workshop addresses performers of any melodic instrument at any level of expertise and will last 2 hours.