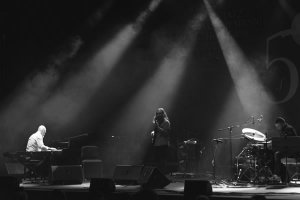 After 2 years of being active and playing shows at Jazz festivals, venues and music schools, Junkey Moneywise, a progressive/modern jazz trio from Nicosia, presents a series of shows named 'Awakening'. The trio will perform at Technopolis 20 in Paphos, on Friday, 29th of March, 8pm.
'Awakening' is the musical result of this "two year" journey and it's entirely made of original compositions of the band, planned to be recorded in 2019. The Junkey Moneywise consists of Vasilis Vourvopoulos – Piano / Keyboards, Marinos Kassinos – Bass and Markos Ioannou – Drums.
The live performances of the trio have received major critical acclaim, mostly due to the highly energetic style of their members' playing, with polyrhythmic and complex passages leading to more atmospheric, downtempo parts, combining the european Jazz influence with neo-soul, latin jazz and even eastern Music in their compositions.