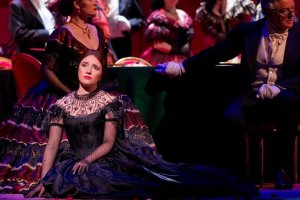 Richard Eyre's gorgeous production of Verdi's best-loved opera returns with star sopranos Ermonela Jaho and Angel Blue as Violetta; the casts also include Placido Domingo and Charles Castronovo.
Alfredo Germont and also the courtesan Violetta Valéry fall in love at a party in Violetta's Paris salon. Alfredo is determined to cure Violetta of her tuberculosis, and the couple leave Paris and start a happy life in the country. However Violetta's happiness is destroyed when Alfredo's father Giorgio Germont pays her a visit.
Violetta's scandalous relationship with Alfredo is jeopardizing Giorgio Germont's daughter's engagement, and Germont persuades Violetta to leave his son. Brokenhearted, Violetta promises not to tell Alfredo why. Alfredo is shocked when Violetta disappears, and decides she should have left him from self-interest. He confronts her at a Paris party and leaves her. Only when Violetta is dying does he learn the truth.