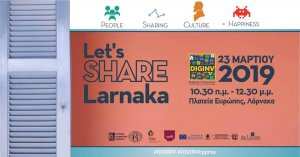 A walking treasure hunt around the city of Larnaka where people, groups, families, friends, etc. is invited to come back and share Larnaka's cultural heritage sites or points of reference in a fun way.
During the game the participants are invited to publish photos from the city of Larnaka, on Facebook, Instagram, Twitter using the hashtags: #DIGINV #DIGINVCyprus
The participants might also appear in the photos or they'll use the invader masks which will be provided.
GAME RULES
1. At the starting point you will receive a photo and other material.
2. Identify the location and go there
3. You can ask around for help
4. Locate the person who will give you the next photo/clue
5. Collect all 5 photos/items within 2 hours
COMPETITION RULES
• The picture must be published on Saturday 23 March 2019 or Sunday 24 March 2019.
• The photo must contain the 2 hashtags: #DIGINV #DIGINVCyprus
• The count of reactions/likes will take place on Tuesday 2 April and the winner will be contacted through profile.