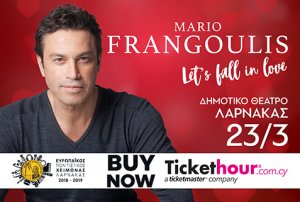 Every appearance of Marios Frangoulis is a celebration of music. This time, the beloved international star chooses to perform emblematic songs that have been engraved in the minds and hearts of all his friends about love and love.
"Let's fall in love" is the slogan of the concert, the code to open the doors and the audience to follow the voice of Marios Fragoulis on the paths of the most stunning erotic songs. With "Let's fall in love", Marios Fragoulis meets amongst others his favorite protagonists and roles he has played in the past in the world's most famous theaters in Scala in Milan, and also the famous west end of London.
Marios Fragoulis will celebrate life, passion and love through the melodies he selected for you.