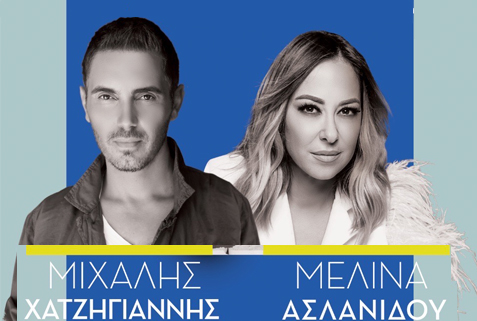 Michalis Hatzigiannis and Melina Aslanidou continue their musical journey in Greece and Cyprus, presenting important moments of their personal discography as well as timeless and favorite songs of the Greek repertoire.
Michalis Hatzigiannis, one of the most inspired and successful composers and performers of his generation, with songs that have left their mark deep within us, knows how to "offer" his audience beautiful melodies, positive emotions, and good mood.
Melina Aslanidou, a singer with a "magic" voice and songs that became instant favorites, manages to turn all her live shows into reference points, with her utterly sentimental performances on stage.
"Together as one", with imposing interpretations and unique duets, they unite their voices and songs and garnish our summer nights with melody and rhythm.
With a sense of responsibility for this year's special conditions and respecting all the health measure plans, let's all enjoy our summer concerts safely.
Melina and Michalis are accompanied by a group of great musicians and friends:
Solonas Apostolakis: piano, keyboards, orchestrations,
Pantelis Ntzialas: guitars, orchestrations,
Spyros Mazis: bass,
Giorgos Mitsotakis and Manolis Tombros: drums, percussion,
Stelios Katsatsidis: accordion
and Andreas Karantinis on bouzouki.
Sound engineers: Moraitis Antonis and Angelina Ifanti
Lighting: Dimitris Laios
Production: BrasDeFrères