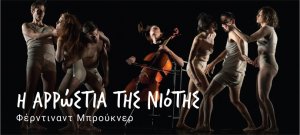 The New Stage of THOC presents the play "Pains of Youth" by Ferdinand Bruckner, translated by Giorgos Depastas and directed by Aliki Danezi-Knutsen.
The play depicts with unprecedented candour the moral corruption and cynicism of a group of medical students. For these young people, youth itself is a fatal disease and the idea of death by suicide is always present in their minds.
The play is inappropriate for kids.