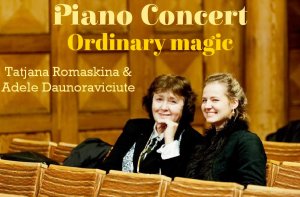 The exquisite Ukrainian piano soloist and concertmaster Tatjana Romashkina comes in Cyprus to meet one of her students, Adele Daunoraviciute that has been awarded five times by the president of Lithuania for her music achievements, at Technopolis 20, on Saturday, 27th of October 2018, at 7pm.
The piano duet will perform a repertoire from different epochs and genres, both solo and four-hands works. The audience will have the opportunity to discover and connect with music close to their heart and soul and enjoy first-class musicians in one performance. The programme will include works by W.A. Mozart, F. Schubert, F. Chopin, C. Saint-Saens, M. Ravel, A. Scriabin and S. Rachmaninoff.
Entrance: 10 euro/ 7 euro (students)
Reservations are necessary at 70002420.