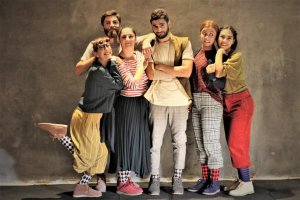 Reconstructing the myth of pied Piper of Hamelin, Thomas Moschopoulos presents a play for all ages that addresses the democratic principles, the role of political leaders in every democratic state, as well as the voters' responsibility.
Travelling through time, spectators are given an opportunity to save the innocent kid they betrayed while growing up. Setting the action in a theatre-within-the-theatre, the director allows the viewers to choose the end of the story, as well as to reflect and retell their own version of it.
Directed by: Marios Theocharous.
Set design: Edouardos Georgiou.
Costume design: Thelma Kasoulidou.
Lighting design: Vassilis Petinaris.
Music: Christos Andreou.
Voice coach: Maria Kapetaniou.
Cast and singers: Lida Karayianni, Antonis Kleanthous, Nicoletta Mantesidou, Polina Matthaiou, Grigoris Petri, Constantinos Tsiolis & Thekla Flouri.
Duration: 90′