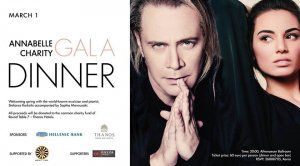 For a second consecutive year, Annabelle hotel and round Table 7 Paphos co-organise the Annabelle Charity Gala.
On Friday, 1st of March, we welcome spring with the world-known musician and piano player, Stefanos Korkolis. accompanied by Sophia Manousaki and with the participation of Kostis Pirenis, guitars – vocals and Vasilis Defiggos, saxophone – flute – percussions.
All proceeds are given to the common charity fund of round Table 7 – Thanos Hotels.