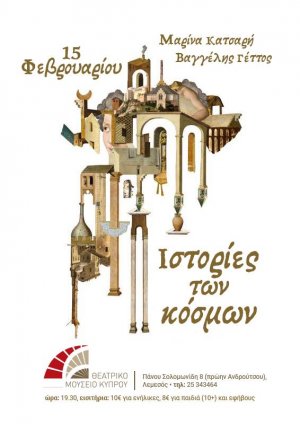 Stories of the Worlds – With Marina Katsari and Vaggelis Gettos
Cyprus Theater museum, 15/2, 19.30
We say ''the world''. ''The relality'', we affirm. but stories like plural. Stories create worlds. They cross realities and to reveal them, simply the warmth of some words and sounds are enough. Marina Katsari (storytelling, clarinet) and Vaggelis Gettos (accordion, luth, guitars, percussion) search the words and sounds in stories of Central Africa, Russia and Arabia, making a particular atmosphere.
Storytelling is in the Greek language.