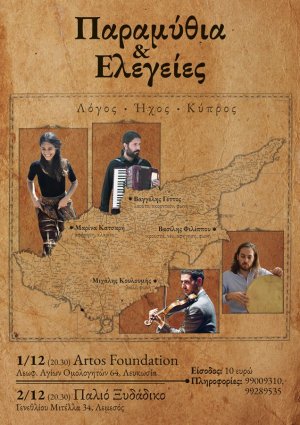 The language and the sound of Cyprus, the dialect and the music of a space which was continuously a meeting point, bring together four artists and unite 2 parallel performances.
Marina Katsari and Vaggelis Gettos (Medieval Tales of Cyprus) meet on stage Michalis Kouloumis and Vassilis Philippou (Cypriot Elegies) and all together explore their own Cypriot utopia.
Stories, melodies and poems are mixed creatively among a particular cooperation, revealing the inexhaustible power folk culture.
Storytelling, clarinet: Marina Katsari
Violin: Michalis Kouloumis
Luth, accordion, vocals: Vaggelis Gettos
Percussion, ney, vocals: Vassilis Philippou