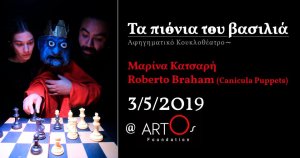 The king of an imaginary country, because of an accident, he's obliged to walk with crutches. However, the king orders everyone in his kingdom to walk with crutches. The years pass and people start forgetting how it felt walking before the royal decree. but memories survive somewhere and prepares the overthrow.
Roberto Braham (Canicula Puppets), puppeteer from Guatemala and marina Katsari, a storyteller from Cyprus, unite their arts into a strong storytelling puppetry performance. The dynamism of put-on puppets, specially crafted for this performance by Roberto Braham and the atmospheric narration give birth to an entire world of power and resistance, jokes and tragedy, darkness but also light. The performance is based on the folk tale ''The crutches'' as included in lily Labrelli's collection ''Ten plus one wisdom tales for times of crisis and other difficulties'', (Pataki editions, 2014).
The performance is appropriate for teenagers and adults.