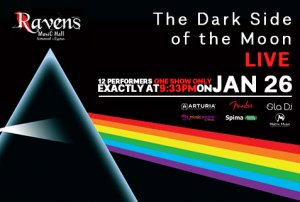 The Dark side of the Moon is without doubt one of the best music albums of the 20th century. Pink Floyd through their experimental and psychedelic music in combination with thought provoking lyrics managed to make a work of art completely different from any other. 9 songs expand on themes such as time, money, war and hyper-consumerism, reasons for pushing the contemporary man towards the edge of madness.
The importance of their work lies in the fact that it evolves along the human consciousness and at the same time it plays a part in its development. By giving equal attention to the lyrics as to the music the listener receives a life lesson that itself changes and evolves over time. That's due to the fact that some ideas can only be decoded and have meaning through the passing of years, in different words, life experience.
The Dark side of the Moon owes its popularity to songs like money and time, however it remains unknown in its entirety by most of the people. On January 26 at Ravens Music Hall in Limassol, a group of 12 performers will give the audience an unforgettable audio and visual experience by performing Pink Floyds masterpiece to the last detail.