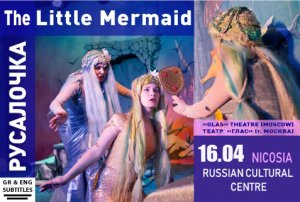 Young guests and their parents will experience a bright show with colourful decorations and costumes that may give kids memorable memories. The performance will be shown in Russian with Greek and English subtitles.
The heroes of the fairy tale, performed by actors of the theater "Glas" will tell about self-sacrifice and the savior power of love, and the set design will help the children's imagination to be transported into the world of the sea depths, and then to the prince's castle.
The Little mermaid is a fairy tale by the world known Danish writer Hans-Christian Andersen, 1st published in 1837. Since then, it has inspired several directors, artists, publishers, and musicians.