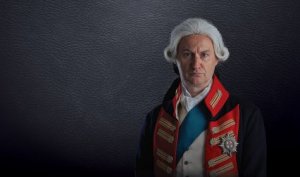 Multi-award-winning drama The Madness of George III are going to be broadcast live to cinemas, in National Theatre Live's 1st ever broadcast from Nottingham playhouse.
Written by one of Britain's best-loved playwrights Alan Bennett (The History Boys, the woman in the Van), this epic play was also adapted into a BAFTA award-winning film following its premiere on stage in 1991.
The group of actors of this new production includes Olivier Award-winners Mark Gatiss (Sherlock, Wolf Hall, nt Live Coriolanus) in the title role, and Adrian Scarborough (Gavin and Stacey, Upstairs Downstairs, after the Dance).
It's 1786 and King George III is the most powerful man in the universe. However his behaviour is becoming increasingly erratic as he succumbs to fits of lunacy. With the King's mind unravelling at a dramatic pace, ambitious politicians and the scheming Prince of Wales threaten to undermine the power of the Crown, and expose the fine line among a King and a man.
With Greek and English subtitles