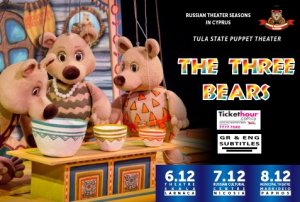 We invite all children and their parents to relish the children's puppet "The 3 Bears", which will be shown on December 6, at 17.00, at "Scala" Theatre (Larnaca), on December seven, at 17.00, at the Russian Cultural Center (Nicosia) and on December 8, at 15.00, at the Theatre Markideio "(Paphos).
Do you want to offer your children an memorable experience? we invite everyone to a unique puppet show "The 3 Bears" with the effect of presence, in the framework of the international project "Russian Theater Seasons in Cyprus" of the Russian Embassy and the Russian Cultural Center performed by the Tula State Puppet Theater.
The performance are going to be given in Russian with subtitles in English and Greek.