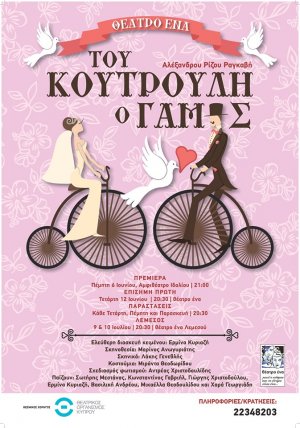 The popular Greek comedy "The Wedding of Koutroulis" is presented by Theatro Ena.
A tailor, Manolis Koutroulis, falls in love with Anthousa, the daughter of a middle-class family, but she only has eyes for Leonidas, a young policeman. To avoid the prospective groom without opposing her father, Anthousa says that she will marry the illiterate Koutroulis on condition that he becomes a minister of state. Koutroulis launches his election campaign, uses every means at his disposal and appears to have achieved the impossible. And so the ambitious Anthousa marries him. But it soon transpires that the tailor has not in fact been made a minister and that he has fallen victim to cunning exploiters of his naïveté.
Alexandros Rizos Rangavis wrote Koutroulis's Wedding in 1845, but for 21st-century audiences the play might have been written today. It is a political satire that exposes all the ills that have accompanied the state of affairs and the mentality prevailing in Greece from its foundation to the present day. Cronyism, slavish deference to all things foreign, lack of authenticity, vested interests, corruption and bribery are just some of the issues addressed in Rangavis's comedy, the timelessness of which now gives a tragic edge to a reality that to a great extent is no different today.
Adaptation: Ermina Kyriazi
Director: Marinos Anogiriatis
For more info call: 22348203
(in Greek)